Peter Blume, President
  
At the beginning of his career, Peter Blume sold and supported proprietary data acquisition and control systems. He developed an enthusiasm for solving industrial problems and, in 1991, founded Bloomy Controls, a tribute to his grandfather's pronunciation of the family name.
Focusing on PC-based automation, Peter spent the next years designing automation and control systems for customers in the Northeast United States. His diverse experience includes automating the calibration of aerospace instrumentation; developing circuit board functional test systems; automating end-to-end production and test of electro-optical network components; automating the manufacture and test of fuel cells and power plants; and controlling chemical batch distillation processes.
Successful in building long-term relationships and exceeding customer expectations, Peter has grown the company, opening facilities in Massachusetts, New Jersey, and a western US sales office in New Mexico. Today he focuses on executive leadership, strategic planning, building excellence across the business, and helping customers to strategically implement automation to increase productivity, improve quality, and reduce costs.
Peter is the author of The LabVIEW Style Book, the industry standard for LabVIEW development style. He has published technical articles in publications including Test & Measurement World, EE - Evaluation Engineering, EDN - Electronic Design News, and Desktop Engineering. He also is a frequent speaker at measurement and automation events.
Peter completed his B.S. in electrical engineering from the University of Connecticut (Storrs, CT). His custom M.S. curriculum included control systems courses from mechanical, chemical, and electrical engineering programs as well as a thesis in fuzzy control.
---

Paul Oei, Vice President of Operations
   
Paul Oei oversees and directs all engineering, manufacturing, and sales operations at Bloomy. His charter is to build the company's product development and manufacturing infrastructure and scale capacity to deliver automated test equipment (ATE) systems that exemplify best professional practices and conform to high-quality standards.
A Six Sigma Master Black Belt, Paul is an expert in implementing initiatives that enhance performance, improve quality, reduce costs, and generate sustainable revenue. He brings to Bloomy extensive experience directing operations, involving customers and resources across the globe, for companies including General Electric, Pratt & Whitney, FuelCell Energy, and Nuvera Fuel Cells.
Paul completed his bachelor's and master's degrees in mechanical engineering from Cooper Union and University of Pennsylvania respectively. He also earned executive certification in supply chain strategy and management from MIT Sloan School of Management.
---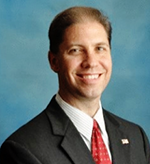 David Marchak, Chief Financial Officer / Director of Finance and Administration
  
David Marchak oversees and directs the company's finance, legal, HR and back-office functions. Skilled in developing complex strategies, creating clear visions, and implementing plans to effect change, David guides the growth of Bloomy, while ensuring positive relationships with customers and stakeholders.
David brings to Bloomy 25 years of financial leadership experience from companies spanning small businesses to a Fortune 50 corporation. Prior to joining Bloomy, David spent 16 years at United Technologies managing the financial functions for multi-divisional global operations. He also served as CFO at Turbine Technologies where he was named 2016 CFO of the Year by Hartford Business Journal.
David completed his bachelor's degree in accounting at the University of Connecticut. He is a certified public accountant (CPA) and a member of the American Institute of CPAs.
---

Grant Gothing, Chief Technology Officer
  
Responsible for Bloomy's technology roadmap, Grant Gothing guides the development of the company's portfolio of innovative products and intellectual property. He directs all research and development initiatives at Bloomy and builds collaborative relationships with customers and partners to identify upcoming trends and strategic opportunities requiring innovation.
Grant joined the Bloomy engineering team in 2007. In his progressing roles from project engineer to senior systems engineer, he developed numerous automated test systems deployed in a variety of industries. In his most recent role as ATE Product Manager, he was chief engineer and architect for Bloomy's electronics functional test products, including the UTS™ family of functional testers and the EFT Module for TestStand.
Grant completed his bachelor's and master's degrees in mechanical engineering, with strong focus on autonomous vehicle development, at Virginia Tech. He is a National Instruments Certified LabVIEW Architect and Certified TestStand Architect. Grant's "Hardware and Measurement Abstraction Layers" white paper is one of the most downloaded resources from National Instruments' web site.
---

Danh Pham, Engineering Director
  
Danh Pham leads the engineering team at Bloomy, focusing on quality first in the design, build, qualification, and delivery of complex automated test equipment. Through continuous employee development and process improvement, he maintains our cutting-edge engineering and software technology organization.
Danh brings to Bloomy ten years of leadership from General Dynamics Electric Boat where he led engineering teams in the research, development, and qualification of power electronics, machinery, and controls for advanced integrated power systems. Under Danh's direction, his team collaborated with the U.S. Naval Reactors engineering office and contractors to deliver equipment for the next generation submarine propulsion plant.
Danh completed his bachelor's and master's degrees in electrical engineering at Polytechnic Institute of New York University and Rensselaer Polytechnic Institute respectively.