functional test, simplified.
Get the essentials of measurement automation to power tests of simpler PCBAs and subassemblies. compactUTS (cUTS) is a cost-effective platform for automating manual tests of devices with fewer than fifty cable-accessible test points in manufacturing environments with moderate production volume. DUT-specific electrically keyed cables make changeover quick and easy.
compactUTS is best suited for:
Printed circuit board assembly (PCBA) functional test
Subassembly functional test
Electronic product manufacturers
CM and EMS service firms
Defense/aerospace contractors
Medical Device manufacturers
Electronics manufacturing needs low-cost automated mixed-signal functional test (FCT) for assemblies that justify automation over manual processes. We created the compactUTS (cUTS), for FCT of simpler PCBAs and subassemblies, where the signals to test are available by cable connections.  Powered by NI USB instrumentation, a robust VPC i1 mass-interconnect jack and our own power control and switch matrix electronics, the cUTS is driven by a standard Windows PC or notebook computer that runs test procedures developed with our Universal Test System software suite of NI TestStand and LabVIEW modules. You can also develop your own software using the included LabVIEW drivers or Windows DLL. Connections to devices under test are described in the Connections tab above.
Standard features of the compactUTS  are:
USB controlled
Reliable VPC i1 interface jack (receiver)
Bloomy USB Control for:

Two 2x16, two 2x8 switch matrices, 0.5A 30VDC
Two SPDT relays, 5A 30VDC
Two operator switches
Pass and fail indicators

NI USB-4065 6½ Digit DMM
NI USB-6341 DAQ OEM with:

Sixteen 16-bit analog inputs
Two 16-bit analog outputs
Eight TTL digital I/O

Specifiable serial communications (2)
Up to three fixed power supplies
Calibrates to NIST
20w x 16.25d x 4.25h inches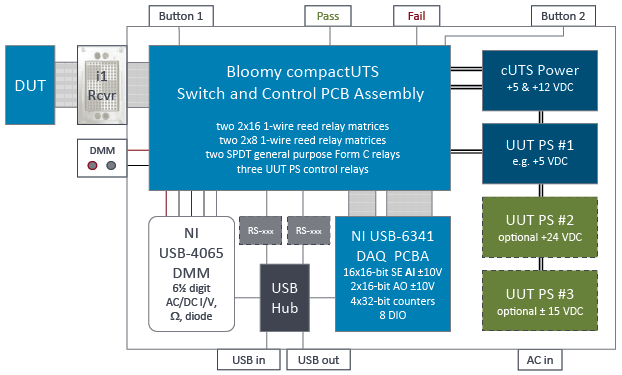 Devices under test by the compactUTS are connected via cable or a cable/interface test adapter (ITA). Each cable employs an electrically keyed i1 plug with internal configuration jumpers and leads connecting to test points on the DUT and/or ITA. Bloomy provides one plug populated with flying leads with each compactUTS. Bloomy can also provide turn-key cables and ITA fixtures, as well as with test sequence development.
A Self-test Suite is also available that includes a specially configured i1 plug and test sequence to exercise all of the instrumentation and switching though to the mass interconnect, assuring the proper functioning of the cUTS in day-to-day test operations.
BESbswyBESbswyBESbswyBESbswyBESbswyBESbswyBESbswyBESbswy
BESbswyBESbswyBESbswyBESbswyBESbswyBESbswyBESbswyBESbswy