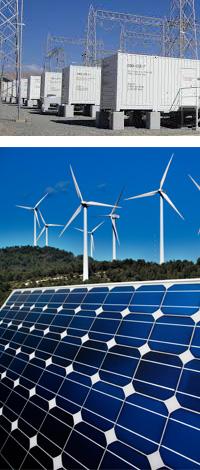 Energy Storage System performance testing, AC and DC sub-system monitoring, and renewable energy control systems
With the increased focus on the power grid and renewable energy, companies are developing products to increase grid reliability and efficiency. At the same time, companies are transitioning to a digital power grid, providing more data to monitor and control grid components. Bloomy continues to evolve our platforms for energy storage performance test and power monitoring systems to assist in the development of new grid and renewable energy products.
As a top tier systems integrator serving the power industry, and distinguished Platinum-level member of the National Instruments Alliance Program, Bloomy is often called upon to develop custom systems. Recent systems include:
Asset power quality monitoring application
Wind turbine distributed control and monitoring
Micro-grid monitoring system
Regenerative fuel cell control and monitoring
Grid master controller for PV harvesting and inverter network
Load-tap changer control system
We are also NI's North American reseller, trainer, and integrator for the GPIC Back-to-Back 3-Phase Inverter Research Kit.