Isolated channels with sink/source capabilites
The Battery Simulator 1200 provides isolated channels to simulate battery sink and source characteristics often used for testing a Battery Management System (BMS). The instrument can be used standalone with the soft front panel, or integrated into a larger test system. Its proper industrial cooling and cell channel isolation allows units to be easily stacked, providing solutions with over 200 channels of simulation capability. The built-in channel voltage and current readback reduces the need for external monitoring equipment.
12 independently controlled cell channels
Sink and source 5VDC and 500mA per channel
1000V channel-to-channel and channel-to-ground isolation
Auxiliary analog and digital IO
Ethernet (LAN) and high speed CAN control communications
NI LabVIEW drivers
FCC, CE certified
The Battery Simulator 1200 (BS-1200) is a 1U (1.75") rack mountable instrument providing 12 independent controlled, and isolated channels necessary to recreate the sink and source characteristics of a battery. Auxiliary analog and digital outputs often used to simulate current sensors or drive contactors provides a safe and efficient method for battery, grid storage, and automotive companies to accurately simulate a broad range of battery cell and pack conditions.
The unit was designed with 1000V of channel isolation, providing the capability to stack multiple units together being able to simulate a battery pack with over 200 channels of series connected cells. The ability to simulate the current sensors and the individual BMS cells provides a platform for testing a BMS throughout its development life-cycle.
The BS-1200 has a standard Ethernet control interface and an option for high-speed CAN when integrating into existing systems. National Instruments LabVIEW drivers are available. A soft front panel is shipped with units to provide a method for configuration, calibration, and executing general unit functionality.
Learn more about Bloomy's complete BMS test offerings:
Cell Channel Simulation
Number of Channels
12
Channel Type
Sink and Source
Voltage Range
0.0 to 5.0 V
Voltage Resolution
0.1 mV
Voltage Accuracy
(Requires Remote Sense)
±3 mV
Balancing Current*
± 500.0 mA; output derates linearly under 2 V
Current Resolution
0.1 mA
Current Accuracy
±4 mA
Current Limiting Accuracy
±10 mA
Isolation Voltage*
1000 VDC CH-TO-CH, CH-TO-GND
Channel Readback
Voltage Resolution
0.1 mV
Voltage Accuracy
±3 mV
Current Resolution
0.1 mA
Current Accuracy
±4 mA
Analog Input
Number of Channels
8 (single–ended)
Max Voltage
5.0V
Voltage Resolution
0.1 mV
Voltage Accuracy
±5 mV
Analog Output
Number of Channels
2
Voltage Resolution
0.1 mV
Voltage Accuracy
±5 mV
Max Voltage
5.0 V
Max Current
10 mA
Digital I/O
Channels
8 (bidirectional)
Logic Level
3.3 V
Control
Communications* 
LAN, CAN
Drivers
NI LabVIEW
Physical
Dimensions
19" W x 1.75" H x 15" D (1U)
(482.6 mm W x 44.5 mm H x 381.0mm D)
Weight
7.5 lb (3.4 kg)
Operating Temperature
0 - 35°C
* Do you have special requirements for balancing current, isolation, or communications? Contact us.
The Battery Simulator 1200 can be used in many test scenarios where high isolated cell simulation is required. Below is an example of integrating the Battery Simulator 1200 into a test system with two units (24 channels) stacked above an external power supply to provide an overall pack voltage of 800V. The auxiliary IO is used for temperature and control IO simulation. A test controller provides communications to the unit and control of the supplies.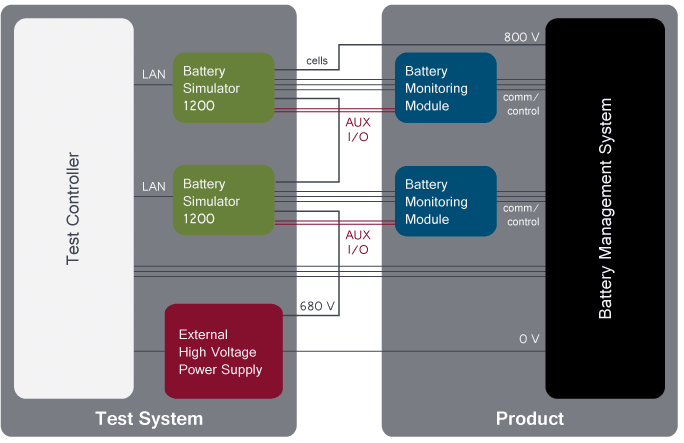 Do you have a specific application? Contact us.