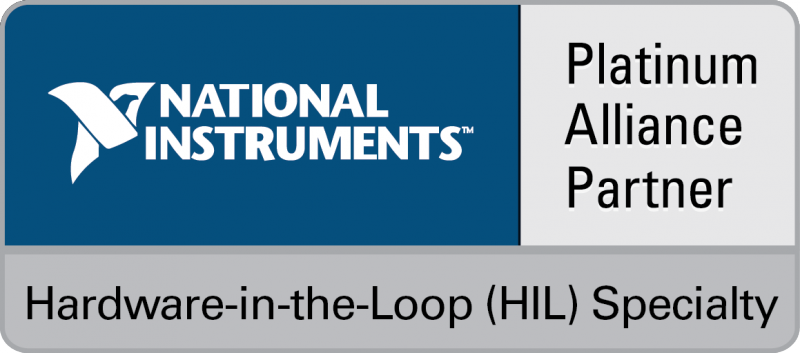 Customers see significant reduction in cost and lead times over traditional approaches
WINDSOR, CT – March 21, 2017 – Bloomy Controls, Inc. (Bloomy) has been named a Hardware-In-the-Loop (HIL) Specialty Alliance Partner by National Instruments (NI). The company received this designation for its specialized skills in HIL testing, as well as its in-depth knowledge and enhancements of NI HIL platforms and architectures including PXI, SLSC, CompactRIO, VeriStand, and TestStand.
An NI Platinum Alliance Partner, Bloomy contributed its wide-ranging experience with aerospace and defense real-time testing to a collaborative effort with NI to develop NI's transformative new Switch Load and Signal Conditioning (SLSC)architecture. This experience includes both HIL and systems integration lab (SIL) test systems for verification and validation of aerospace electronic assemblies, such as electronic engine controls, flight control computers, and subsystem controllers. Furthermore, Bloomy has extended NI's offering by developing its own sensor and bus simulation modules, interconnects, and software, including LVDT, RVDT, resolver, thermocouple and MIL-STD-1553B, all of which are commercially-available products for the SLSC architecture. This approach of combining commercial, off-the-shelf hardware and software with the flexibility of NI's platforms and architectures provides aerospace and defense companies with dramatic reductions in lead times, labor and cost compared to traditional VME-based approaches.
In addition, Bloomy's standard platform for battery management system (BMS) testing has received numerous accolades from hybrid and electric vehicle companies worldwide, and was an automotive category finalist in the graphical systems design awards at NIWeek 2016. The BMS HIL Test System, comprised of Bloomy's Battery Simulator 1200, Battery Fault Insertion Unit, NI PXI, and VeriStand, has the flexibility to safely and efficiently simulate automotive drive cycles, as well as otherwise dangerous fault conditions, with up to 200 simulated lithium-ion cells or 1,000V.
"The expertise of our HIL Specialty Partners is key to NI's strategy for ensuring customer success. Bloomy's in-depth systems knowledge and outstanding track record of delivering successful customer implementations ensure that our mutual customers achieve the best possible result at the lowest cost and time to production" says Tony Vento, Vice President, Alliance Partners and Systems Assurance, National Instruments.
Related Links
Hardware-In-The-Loop Test Capabilities
Main Rotor Actuator HIL Test System
BMS HIL Test System Helps Jaguar Land Rover Shorten Time-to-Market for Hybrid and Electric Vehicles
VeriStand, TestStand, CompactRIO, SLSC, National Instruments, NI and ni.com are trademarks of National Instruments. Bloomy is a trademark of Bloomy Controls, Inc. A National Instruments Alliance Partner is a business entity independent from National Instruments and has no agency, partnership or joint-venture relationship with National Instruments.