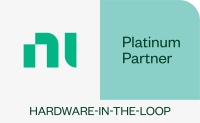 Test complex subsystems using closed-loop real-time dynamic simulations
Bloomy provides hardware-in-the-loop (HIL) test systems that use real-time hardware and software to simulate system parameters across a variety of conditions while acquiring data from the device under test to measure its performance. HIL is especially useful for situations where exercising all modes of a system's behavior is impractical or dangerous.
This special niche of test engineering requires the expertise of embedded programmers and control engineers to create the deterministic control loops with analog signals representing temperature, pressure, strain, RVDT/LVDT, etc., plus various digital and avionic buses including: 1553, ARINC429, CAN, and RS-422/485.
Bloomy engineers are expert in the application of National Instruments real-time hardware along with LabVIEW RT, LabVIEW FPGA, and VeriStand; integrating models developed by our customers.
| | | |
| --- | --- | --- |
| | SIL Record and Playback (2) | |
| | Medium Simulation Systems (3) | Large Simulation Systems (3) |
| X-Large Simulation Systems (2) | | |