WINDSOR, Conn – May 15, 2018 – Bloomy to officially release an enriched EFT Module for TestStand at NIWeek 2018. The new version boasts several new features and enhancements and builds upon the industry's most complete functional testing framework for National Instruments (NI) TestStand.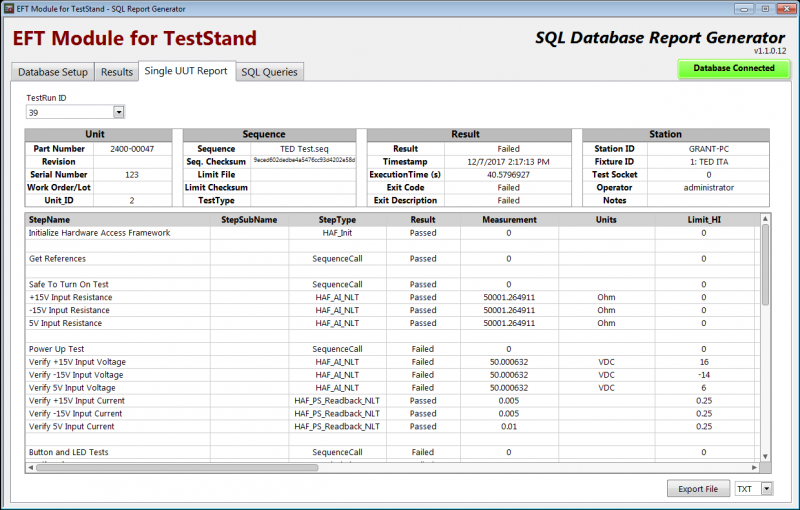 A sampling of new features includes:
The ability to embed VI subpanels from a TestStand sequence into the EFT Manufacturing OI was the most requested new feature for Version 2.2. The new Operator Interface Subpanels feature simplifies tasks like serial number entry, setup confirmation, or displaying waveforms in real time, making for a more seamless and intuitive operator experience.


The Hardware Access Framework now accommodates the linking of multiple HAF configuration files together to hierarchically define a product's instrumentation and signals. This provides an easy mechanism to define system-level and product-level configurations that reduces duplication of effort for common instruments, signals, and connections.


EFT DB Report Generator now provides a new Single UUT report format which shows tabular detail about each test result, measurement, limits, and status for an individual UUT. This complements the existing "flat file" view where each row contains a single UUT test. Reports can also be exported to an external file in CSV or tab delimited text format, allowing results to be viewed and analyzed in MS Excel.
In addition to these robust new features, Version 2.2 of the EFT Module for TestStand includes new debugging tools, driver updates, and licensing options. The EFT Module for TestStand continues to be the fastest and lowest cost path to production test for electronics manufacturers using the TestStand platform.
For a complete list of new features and enhancements see EFT V2.2 Release Notes.
A free 30-day evaluation trial of the EFT Module for TestStand is available on the LabVIEW Tools Network or through Bloomy. Request a live demo and learn about ordering options by contacting Bloomy sales at eft_sales@bloomy.com. The product is also available for purchase on the LabVIEW Tools Network. While visiting bloomy.com, engineers can also learn about UTS—Bloomy's affordable and flexible mixed-signal functional test system for electronics manufacturers.
About NI
NI (ni.com) empowers engineers and scientists with a software-centric platform that incorporates modular hardware and an expansive ecosystem. This proven approach puts users firmly in control of defining what they need to accelerate their system design within test, measurement and control. NI's solution helps build high-performance systems that exceed requirements, quickly adapt to change and ultimately improve the world.
About NI TestStand
TestStand is test management software used by 10,000+ developers worldwide in the development, deployment, and maintenance of automated test systems.
LabVIEW, National Instruments, NI, ni.com, NI TestStand and NIWeek are trademarks of National Instruments. Other product and company names listed are trademarks or trade names of their respective companies.
For more information:
Access EFT Module for TestStand product details at http://www.bloomy.com/products/electronics-functional-test/eft-module-teststand