Tuesday, November 15, 2016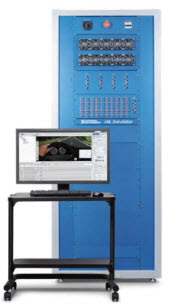 After much anticipation, Bloomy Controls, Inc. (Bloomy) is now accepting orders for National Instruments (NI) Hardware-in-the-Loop (HIL) Simulators based on the new NI SLSC architecture! This transformative new system incorporates NI platforms and architectures along with Bloomy transducer simulation modules and interconnects to provide more cost-effective real-time test systems with faster lead times than traditional VME or other HIL systems.
The system's functionality is achieved using the latest NI PXI components combined with a new NI extension for switching, loads and signal conditioning (SLSC). The system includes a wide variety of sensor and communication simulation modules which are specifically designed for aerospace and defense applications, including VDT, resolver, synchro and thermocouple simulations, as well as ARINC 429 and MIL-STD-1553B avionic buses. By utilizing NI's VeriStand real-time test software, aerospace companies are able to integrate their own models from Simulink and other modeling software. This combination of off-the-shelf technologies and a powerful real-time environment addresses testing a wide variety of aerospace electronics assemblies, such as electronic engine controls, flight control computers, and subsystem controllers.
Bloomy contributed its vast aerospace test experience to the specifications development and is providing several of the SLSC modules as well as integration of turnkey HIL systems. Moreover, Bloomy provides the application domain expertise to integrate these systems for aerospace and defense customers.
"Bloomy is honored to partner with NI and begin deliveries of this NI HIL Simulator with its unparalleled level of flexibility and off-the-shelf lead times, backed by NI's unwavering commitment to long-term availability and customer support," says Roy Walker, Bloomy's Aerospace Real-Time Test Business Manager. "Our initial launch customers anticipate saving thousands of hours of labor on cabling alone which translates to shaving 3-6 months from the lead times for bringing new validation test facilities and systems integration labs (SILs) online."
To learn more about the potential savings using the NI HIL Simulator approach at your facility, please contact Bloomy or NI using the links below.
Product and company names listed are trademarks or trade names of their respective companies.
Related Links
Contact Bloomy to discuss your HIL testing requirements