24 channels of fault insertion and switching for the Battery Simulator 1200
The Battery Fault Insertion Unit (FIU) provides intelligent switching of cell-simulation channels for the Battery Simulator 1200. The switching capability enables simulation of open-circuit and short-to-rail fault conditions on any cell channel for the purposes of battery management system (BMS) testing. Additionally, a four-wire auxiliary input allows you to connect an external digital multimeter (DMM) instrument to any cell channel for very high-accuracy bypass current and cell voltage measurements. Each FIU provides 24 independently-programmable cell-switching channels for one or two 12-cell Battery Simulator 1200 units. Additional Battery Simulator 1200 and FIU instruments can extend functionality up to 120 series-connected cell channels.
RS485 and high-speed CAN control communication
600V channel-to-channel and channel-to-ground isolation
NI LabVIEW™ drivers
Stackable up to 120 channels
The Battery Fault Insertion Unit (FIU) is a 1U (1.75") rack-mountable instrument providing 24 independently-controlled-and-isolated channels necessary to extend the cell-simulation capabilities of 2 Battery Simulator 1200 units to include fault insertion functionality. Fault insertion at the cell level is a common application need when testing BMS products, and the FIU achieves this by introducing the ability to switch simulated battery signals at the cell level. Cell channels can be switched open to simulate open-circuit fault conditions, or switched to an externally supplied rail to simulate short-circuit fault conditions.
The FIU has a standard RS485 and high-speed CAN interface for remote control when integrating into an automated test system or for use as a bench-top instrument. National Instruments LabVIEW drivers are available, and a soft front panel is shipped with the FIU to provide a method for demonstrating general functionality. Units can be stacked up to 120 channels, with extendable communication on a common interface bus.
Paired with the Battery Simulator 1200, the FIU provides even further capability to perform BMS testing throughout the BMS development life-cycle.
Learn more about Bloomy's complete BMS test offerings:
Electrical
Input power
24 VDC, 2A
Fault Insertion and Switching
Number of channels
24
Current per channel
500 mA
Relay type
Reed / Non-latching
Voltage isolation
600 VDC
Maximum switching power per channel
100W
Control
Communication
RS485 and CAN
Drivers
NI LabVIEW™
Physical
Dimensions
19"W x 1.75"H x 4.5"D (1U)
(482.6 mm W x 44.5 mm H x 114.3 mm D)
Weight
4 lbs (1.8 kg)
Operating temperature
0 - 35°C
The FIU can be used in conjunction with the Battery Simulator 1200 in many test scenarios where high-voltage isolated cell simulation along with fault insertion capability is required.
Applications may include:
Enhance Battery Simulator 1200 for automated BMS testing with fault insertion
Connect external DMM for very high-accuracy cell measurements
Perform open-circuit and short-circuit fault simulation
Hardware-in-the-loop (HIL), validation, and end-of-line BMS testing
Below is an example of integrating the FIU with two Battery Simulator 1200 units (24 channels) stacked together to simulate a multi-channel battery configuration capable of inserting open-circuit and short-circuit faults on each cell channel. Auxiliary IO is used to connect an external DMM for high-accuracy measurement, and a rail voltage for short-circuit fault insertion. A test controller provides communications to the unit and control of the hardware components.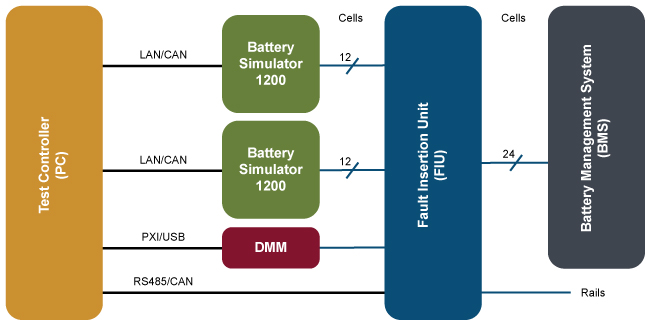 Do you have a specific application? Contact us.