Anticipation was high for the Bloomy team upon arrival in Austin, TX for NIWeek 2017, held May 22nd – 25th at the Austin Convention Center. With finalist nominations for distinguished awards and a new product to formally announce, the team was primed for a successful event and then …WE ROCKED IT!
Highlights include:
Featured in NIWeek keynote
Formal release of the EFT Module for TestStand
Finalist for the LabVIEW Tools Network Product of the Year
Three exhibits featuring new cutting-edge products and technologies
Four technical presentations
If all of that wasn't thrilling enough, NI awarded Bloomy the prestigious America's Partner of the Year Award! Read on to learn more about these exciting accomplishments.
On Stage
Bloomy's Business Unit Manager for Aerospace HIL and Real-Time Test, Roy Walker, joined NI on stage this year for Monday's morning keynote to speak to Bloomy's partnership with NI on the Hardware-In-the-Loop (HIL) simulator system. Bloomy contributed its vast aerospace test experience to the specifications development phase and its application domain expertise to integrate these systems for aerospace and defense customers. Bloomy is providing several of the SLSC modules as well as integration of turnkey HIL systems.
Exhibits
On the exhibition floor, Bloomy showcased products and platforms featuring applications in aerospace electronics real-time test, electronic assembly functional test, and battery test and simulation.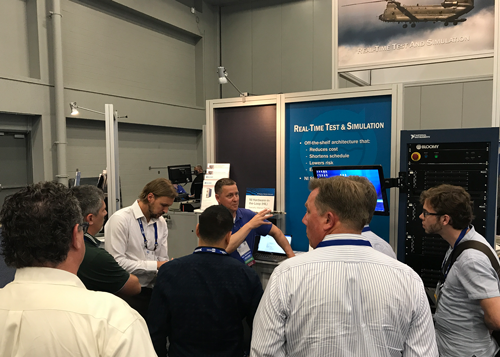 The NI Hardware-In-the- Loop (HIL) Simulator was on display at the Bloomy pavilion and the system is now shipping to major aerospace and defense customers.
The system incorporates NI platforms and architectures to create flexible closed-loop simulations for real-time testing of a wide range of devices. This highly-integrated platform scales to address devices with small I/O quantities up to complex systems with thousands of I/O points. Functionality is achieved using the latest NI PXI components in combination with a new NI extension for switching, loads and signal conditioning (SLSC); as well as VeriStand real-time test software, in a highly-accessible 19-inch rack.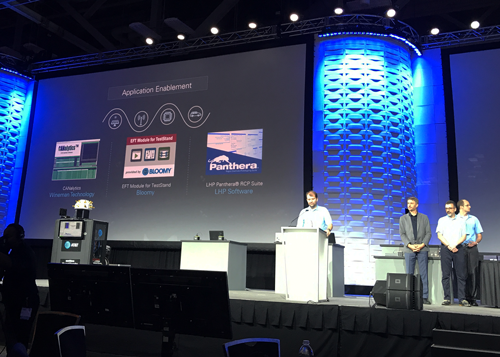 EFT Module for TestStand Formally Released
The Electronics Functional Test (EFT) Module for TestStand was a topic of conversation throughout the event and one of three finalists selected for the LabVIEW Tools Network Application Enablement Product of the Year Award.
Leveraging the increased productivity offered by TestStand 2016, the EFT Module for TestStand complements the TestStand framework by providing an architecture that focuses on automated functional test of electronic assemblies for the production environment, while maintaining the extensibility and low level control of full-featured TestStand.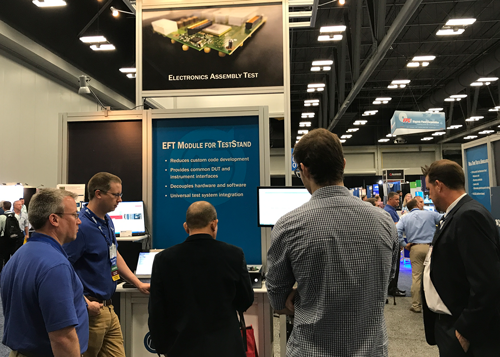 Bloomy demonstrated a sample unit under test (UUT) consisting of an electronic printed circuit board assembly (PCBA) on two flavors of test systems from Bloomy's UTSTM family of electronics functional testers: the entry-level USB-based compactUTS, and the modular PXI-based UTS.
Attendees received a demonstration of the benefits of each platform, as well as the EFT Module for TestStand's three major components: Hardware Access Framework, Manufacturing Operator Interface, and Database Reporting.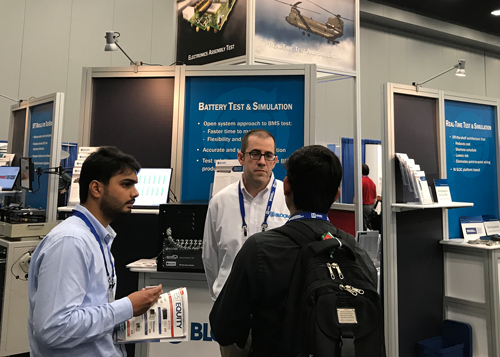 Simulating the characteristics of advanced Li-Ion batteries safely and efficiently using NI PXI hardware running VeriStand real-time test software was demonstrated in tandem with Bloomy's Battery Simulator 1200 and the Battery Fault Insertion Unit.
The small scale demo is a desktop version of Bloomy's BMS HIL Test System, an open system platform that hybrid and electric vehicle companies use for firmware development and regression testing of battery management systems.
Technical Presentations
| | |
| --- | --- |
| | Bloomy's Battery Test and Simulation Business Unit Manager, Steven Hoenig, presented An Open Systems Architecture Approach to BMS HIL Testing. Steven explained the benefits of an open-systems architecture approach to HIL test system implementation including the overall benefits demonstrated by market-leading xEV companies like LG Chem and Jaguar Land Rover. |
| | Grant Gothing, Bloomy's Turnkey Systems Manager, shared best practices and design patterns for TestStand Custom Step Type development with his presentation on Personalizing TestStand with Custom Step Types. Grant explained that providing a customized interface to code modules reduced direct code calls and improved overall test development productivity. |
| | Testing the Tester: Self-test Methods for Periodic ATE Verification was presented by Bloomy Test Engineer, Jake Adams. Jake explained that by understanding test coverage, advantages, disadvantages, and best practices, you can determine which tester method is best suited for verifying that your automated test equipment is functioning properly on a regular basis. |
| | Project Engineer Michael Palafox presented Reuse in User Interfaces: Skinnable Views and Dynamic Events. Michael explored the use of object-oriented programming and dynamic events to create reusable user-interface components that minimize code-duplication while enabling consistent UIs. |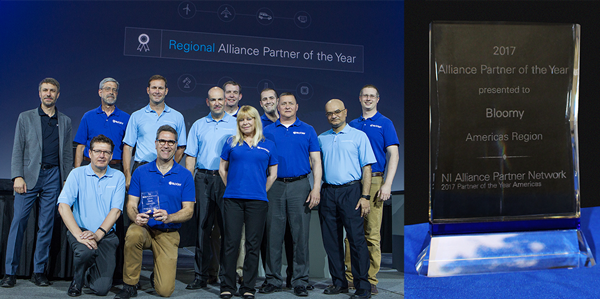 Bloomy Scores Top Partner Award
Bloomy was named 2017 Alliance Partner of the year for the Americas during the award ceremonies. This award honors NI Alliance Partner companies that exhibit the highest level of excellence, regional leadership, and mutual commitment to NI customer success. Bloomy is honored to have received this award and we look forward to continuing our long time partnership with NI for years to come.
See You In May 2018!
Bloomy is already preparing for NIWeek 2018, to be held May 22-25, at the Austin Convention Center. We hope to see you there!
Related Links
 
Press Releases
New EFT Module for TestStand Cuts Time to Production Test, Reduces Development Time by 66%
Bloomy's EFT Module for TestStand Honored on NI Alliance Day 2017
Bloomy Honored on National Instruments Alliance Day 2017

Technical Presentations
An Open Systems Architecture Approach to BMS HIL Testing
Personalizing TestStand with Custom Step Types
Testing the Tester: Self-test Methods for Periodic ATE Verification
Reuse in User Interfaces: Skinnable Views and Dynamic Events