functional test, universalized.
Harvest the power of a production-proven test platform with mass-interconnected PXI instrumentation running NI TestStand and LabVIEW.
The UTS functional test system is perfect for electronics manufacturing operations that have a mix of products where operators load and unload units under test (UUT) and routinely change out fixtures for each type of UUT.
Printed circuit board assembly (PCBA) functional test
Subassembly functional test
Electronic product manufacturers
CM and EMS service firms
Defense/aerospace contractors
Medical device manufacturers
Electronics manufacturing requires reliable yet affordable mixed-signal functional test. That's why we created the UTS, an ideal platform for testing mixed-signal PCBA, subassembly and small fully-assembled products in low- to mid-volume, high-mix production environments.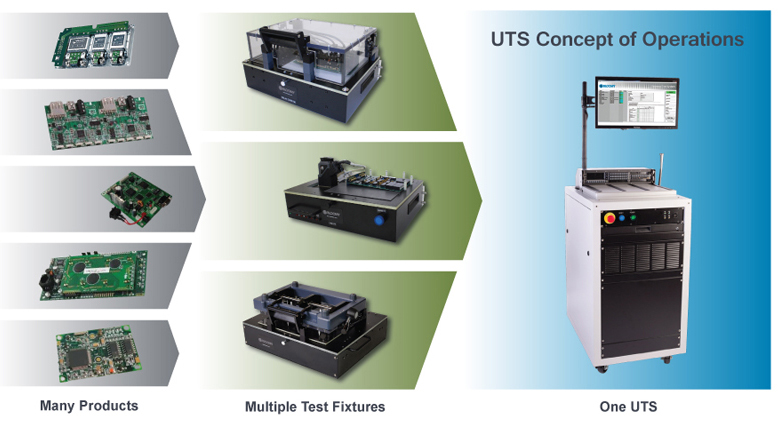 Powered by NI PXI instrumentation, a robust VPC G12 mass interconnect receiver, and Bloomy's own power distribution and control technology, the UTS executes automated test procedures developed with our UTS software suite of NI TestStand and LabVIEW modules. Pertinent instrumentation for your device's unique needs is easy to add to the system in the form of PXI cards and/or 19" rack modules. Connections to your UUT are made using fixtures as described in the Fixtures tab above.
Standard components of the UTS Base include:
19U, 19 inch rack with casters, dimensions: 22" W x 32" D x 46" H
National Instruments PXI Instruments:

NI PXIe-1078 9-slot 3U chassis
NI PXIe-8840 Core i7 controller
NI PXI-4065 6½-digit DMM
NI PXIe-6341 DAQ with 16 AI, 2AO, Counter/Timer and 8 TTL DIO
NI PXIe-2530B  32x4 one-wire reed relay multiplexer/matrix switch
NI PXI-6515 industrial 24V DIO
PXI-4110  triple programmable DC power supply.

VPC G12 mass-interconnect receiver
Rack keyboard/mouse
20" Monitor on adjustable arm
120VAC power distribution with breakered-unswitched, switched, and E-stop safety switch-enabled outlets
Optional  uninterruptable power supply
Optional high-voltage safety circuits
Your UUT deserves the most robust and reliable connections. Test fixtures provide the UTS to UUT interconnect using cables, bed of nails, or both. Mating with the G12 mass interconnect is a fixture that forms an interface test adapter (ITA) packed with high-density connector modules that route signals to and from the PXI instrumentation in the UTS base. You can create your own fixtures, or take advantage of our vast fixture-design experience.
Self-test fixture is also available that exercise all of the instrumentation up to the mass interconnect, assuring the proper functioning of your UTS in your day-to-day operations.
| | | | |
| --- | --- | --- | --- |
| | | | |
| Self test | Cabled | Bed-of-Nails | HV Safety |
This video presents the benefits of a universal approach to automated functional test. This approach will help you lower the overall long-term cost of functional test, improve your reliability, and allow your test solution to grow and adapt for years to come.