Join Bloomy at NIWeek 2019, the 25th annual conference and exhibition for automated test and automated measurement professionals, at the Austin Convention Center in Austin, TX from May 20th – May 23rd.
This year Bloomy's world-class engineering team will showcase three exhibits and present four technical sessions covering the most recent advances in aerospace electronic controls test simulations, lithium-ion battery test and simulation, and electronics PCB assembly functional test; using NI VeriStand, LabVIEW, TestStand, SLSC, and PXI, as well as many of Bloomy's own products and technologies.
Come see the latest Bloomy and NI technology on display at booth #123!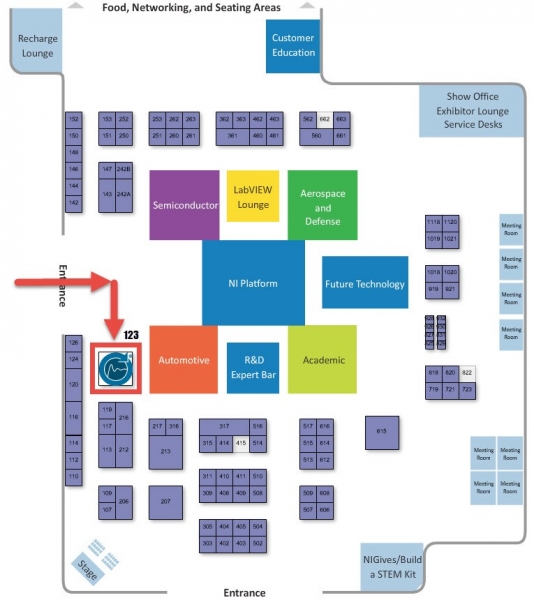 At the Bloomy Pavilion, booth #123 on the NIWeek exhibition floor, come see our advanced new functional demonstrations for aerospace hardware-in-the-loop (HIL) testing, battery management system (BMS) HIL testing, universal electronics PCBA functional testing, as well as Bloomy's own SLSC and cRIO modules, battery cell simulators, and TestStand architecture. Schedule a meeting with a Bloomy expert to discuss your applications in our in-booth conference area and find out how Bloomy can deliver for you!
Here is a preview of our three exhibits:
The Flight Control Computer Simulation System, based on the recently announced Bloomy Simulation Reference System, demonstrates the core elements of an aerospace hardware-in-the-loop (HIL) test system. The system performs HIL testing of a simulated flight control computer (FCC) using both real as well as simulated avionic cockpit controls and indicators, actuators and feedback sensors. The FCC receives pitch, roll and mode control signals from a joystick, elevator, aileron, potentiometer, temperature and throttle displacement VDT feedback sensor measurements. The NI VeriStand operating environment runs a real-time model relating throttle position to engine oil temperature. Like many of Bloomy's delivered simulation systems, the FCC Simulation System demonstration is capable of using both real and simulated measurement and control signals. Real signals may be used for pilots to gain experience using the real cockpit controls in a simulated environment. Simulated signals may be used for running automated test scripts with more precise inputs and extensive coverage for validation testing. This exhibit uses NI's PXI and SLSC hardware platforms and VeriStand software along with Bloomy's aero-HIL architecture with SLSC components, accessories, model and VeriStand devices.
 

 
The Electronics Functional Test exhibit demonstrates how Bloomy's Electronics Functional Test (EFT) Module for TestStand can reduce test software development and deployment time while improving standardization and quality. The demonstration shows the benefits of the UTS™ universal and cUTS™ compact universal electronics functional test platforms, as well as the EFT Module's hardware abstraction, manufacturing operator interface, and SQL database reporting features.
 
The BMS HIL Test System exhibit demonstrates a new and improved scalable solution for hardware-in-the-loop (HIL) validation testing of battery management systems (BMS) and cell monitoring units (CMU). Using an Orion BMS as the unit under test, the demonstration highlights the modular NI PXI instrumentation and VPC mass interconnect, along with Bloomy's Battery Simulator 1200. The system is powered by Bloomy's configurable BMS HIL software architecture which is built on NI VeriStand and TestStand. It runs a simple battery chemistry model in real time, controls the test and simulation instrumentation natively in VeriStand while communicating with the BMS via CAN. The BMS HIL Test System provides an intuitive user interface to show the state of all model parameters and IO, while simultaneously running scripts that perform drive cycle and fault testing to simulate real-world conditions to the BMS.
 
Learn from Bloomy experts
Attend our four technical sessions on VeriStand custom device design, streamlining LabVIEW Real-Time development, automating test procedure to test sequence with TestStand, as well as hardware abstraction layer software design techniques. All of Bloomy's technical sessions focus on technologies that lower cost and increase productivity. Don't forget to fill out a Request for Digital Copy card during any Bloomy technical session or pick one up at the Bloomy Pavilion and enter into a drawing for a $100.00 AMEX gift card!
 
Who Are You Developing Your HAL/MAL For? You Or The Test Engineer
Date: Tuesday, May 21st
Time: 10:30 - 11:30 am
Location: Meeting Room 19A
Presented by: Grant Gothing, Chief Technology Officer
Join Grant to learn how one team struck a balance between clever design and ease of use for the test developer. Equip test engineers be test engineers and not programmers.
 
VeriStand Custom Device Design for Usability and Maintainability
Date: Tuesday, May 21st
Time: 3:45 - 4:45 pm
Location: Meeting Room 13B
Presented by: Tristan Cowan, Chief Engineer, Simulation Systems
Join Tristan to learn tips and tricks for writing custom devices targeted at a robust user experience and efficient operation with a focus on creating testable, maintainable code.
 
Streamline Your LabVIEW Real-Time Development
Date: Wednesday, May 22nd
Time: 10:30 - 11:30 am
Location: Room 13B
Presented by: Taylor Donahue, Project Engineer
Join Taylor as she explores practices that ease work across multiple developers and expedite future updates to your code-base. Taylor explains how Bloomy reduces the risk of code changes with integrated testing for reliable application releases.
 
Automating Test Procedure to Test Sequence with the TestStand API
Date: Wednesday, May 22nd
Time: 1:15 - 2:15 pm
Location: Room 19B
Presented by: James Besancon, Project Engineer
Join James as he explains how Bloomy created a tool that automatically turns test definition spreadsheets into TestStand sequence files by leveraging the TestStand API in LabVIEW, whereby reducing the time from test definition to test.