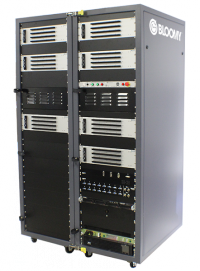 High-fidelity modeled environments in customizable COTS systems
Bloomy offers Simulation Systems for Hardware in-the-Loop (HIL) and open loop test of electronic controls and mechanical actuators for all types of transportation and defense systems including aircraft, rail, automobiles and ships. These systems, now deployed at major aerospace, locomotive and military manufacturers and research facilities worldwide, provide world-class, high-fidelity simulated environments for use in both closed-loop and open-loop testing. Because Bloomy's Simulation Systems are largely constructed from COTS components, time to first test can be reduced significantly, and their highly-customizable nature allows your test system experts to provide your unique IP to differentiate your product from your competitors.
All Simulation Systems are based on the Bloomy Simulation Reference System developed by NI, Bloomy, and others. One of the key architectural elements is the NI Signal Loads and Signal Conditioning (SLSC), which offers the following benefits to all Bloomy Simulation Systems
Common cable connectors greatly reducing custom cable assemblies (no point-to-point wiring)
Fault insertion built into the architecture and available on every analog simulation channel
Ability to breakout and probe every channel via Bloomy ThroughPoint™ panels
Self-test for rapid system checkout and troubleshooting
High use of COTS components for shorter lead times deploying new or updated SIL labs.
Related Products: