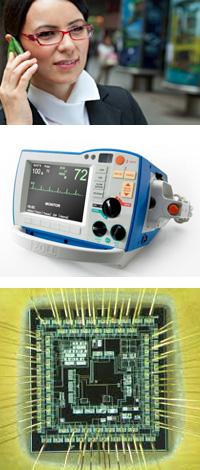 Bloomy serves many high-tech industries with sophisticated hardware/software solutions.
Communications
As communication technology continues to advance, the need for high-speed and efficient test solutions for design verification and production become paramount.   Bloomy provides advanced and maintainable software solutions for test automation that are used by engineers, technicians and operators.
Medical Devices
When lives are at stake, the rigor and traceability of medical device test is of utmost importance.  Bloomy provides functional test systems for PCBAs, subassemblies and products that contribute to device history records, maintaining compliance with regulatory requirements. 
Semiconductors
Electronic chips continue to grow in complexity, density and pin count.  When packaged semiconductor devices fail, they must be screened for faults.   Bloomy offers curve trace systems to measure current versus voltage curves to characterize pin-by-pin performance against known standards.  The system can be configured for a variety of signal types and pin counts (up to 2240 pins and 8 busses).