Desktop battery HIL simulator for BMS firmware development and validation
Comprised of several key features of Bloomy's full and flex BMS HIL test systems in a compact form factor, the Desktop BMS HIL Test System is perfect for firmware developers and validation engineers who need to simulate a subset of a battery's signals into their BMS or CMU in a convenient desk- or bench-top location. Integrating Bloomy's industry-leading battery cell simulators, COTS instrumentation, and industry-standard connectors with Bloomy's BMS HIL test software architecture, the Desktop BMS HIL can easily be adapted to simulate a wide variety of BMSs and CMUs through basic screw terminal breakout boards. The system uses the same proven Bloomy BMS HIL software architecture as our full and flex BMS HIL systems, with options for Windows-based or Real-Time execution.
Portable desktop form factor
Up to 24 cells of simulation
Voltage- or resistance-based thermistor simulation
Voltage-based pack current simulation
Optional bidirectional pack power
Discrete IO control and monitoring
Control and monitor BMS communications
Intuitive UI with model-based or direct control of simulated signals
Parametric 2nd order equivalent circuit cell model
Real-time or Windows-based HIL execution
Ethernet connectivity to external PC or laptop
Multiple configurations to meet a wide variety of testing needs
The Desktop Battery Management System (BMS) Hardware-in-the-Loop (HIL) Test System provides a safe and efficient method for firmware developers and test engineers to test BMS algorithms and system performance during the early stages of development for applications such as:
BMS firmware development
CMU and BMS bringup and validation
PCB component integration testing
Signal simulation for subsystem integration testing
Need more channels?
Inquire about Bloomy's FLEX BMS™ Validation System.
The Desktop BMS HIL Test System provides a compact configuration to test individual BMS devices and functionality.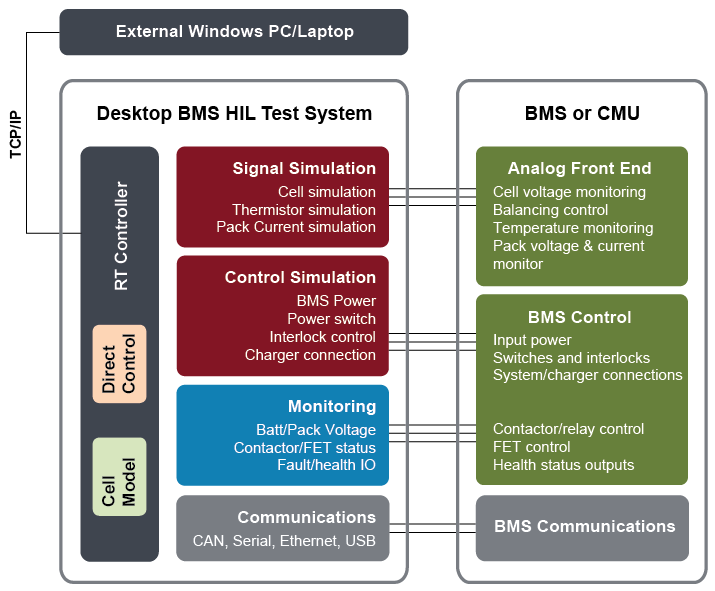 The Desktop BMS HIL Test System is the ideal platform to use when developing and testing a battery management system and cell monitoring unit.  Benefits include:
Provides a safe and efficient method of simulating signals into the BMS and CMU Analog Front End (AFE)
Quick connectivity with industry-standard DSUB connectors and breakout boards
Portable form factor for easy transportation and storage
Improves quality of testing with repeatable stimulus and test scenarios
Reduces test duration and cost associated with using physical batteries
Uses the same BMS HIL software architecture as Bloomy's larger rack-based BMS HIL test systems
The Desktop BMS HIL Test System comes in several standard configurations with rack sizes of either 6U or 8U.  See datasheet for all details.  The following tables specify the typical signal configurations.  Custom configurations are also available. 
Cell Channel Simulation
Number of Channels

12 / module

Max number of Modules
2 (24 channels @ 4.2V)
Channel Type
Sink and Source
Voltage Range per cell
0.0 to 5.0 V
Voltage Resolution
0.1 mV
Voltage Accuracy (Requires Remote Sense)
±3 mV
Balancing Current Range*
± 500.0 mA; output derates linearly under 2 V
Current Resolution
0.1 mA
Current Accuracy
±4 mA
Current Limiting Accuracy
±10 mA
Common mode isolation
300VDC (limited by external DSUB connector)
Cell Channel Readback
Voltage Resolution
0.1 mV
Voltage Accuracy
±3 mV
Current Resolution
0.1 mA
Current Accuracy
±4 mA
Temperature Sensor Simulation (Resistance)
Typical Signal Type*
Variable Resistance
Number of Channels
2 - 12
Range
16Ω to 160 kΩ
Error

0.25% (enhanced mode)

0.01% to 10% (standard mode)
Temperature Sensor Simulation (Voltage)
Typical Signal Type*
Analog Voltage
Number of Channels
12
Range
± 10V
Resolution
16 bit
Accuracy
± 0.5%
Current Sensor Simulation
Typical Signal Type
Analog voltage
Number of Channels
2-4 channel
Range
± 10V
Resolution
16 bit
Accuracy
± 0.5%
Isolation

Ground-referenced standard

optional 250Vrms isolation per channel
General Purpose IO
Analog Inputs
Up to 32 single ended ± 10V
High Voltage Analog Inputs
Up to 3 isolated ± 150V
Analog Outputs
Up to 6 ± 10V
TTL DIO
Up to 8 5V channels
Industrial DIO

Up to 16 inputs / 16 outputs, 12/24V logic levels

Relay dry contacts
4 SPST, 60V, 1A
System Power
Fixed power supplies
5V, 12V, 24V standard
Programmable power supplies
Optional standard or bidirectional.  Power, Voltage, Current TBD based on requirements
Communication Protocols
RS232
1 port standard
RS485
1 port standard
USB
Standard
Ethernet
Standard
High-speed CAN
Optional (1 or 2 ports)
* Do you have special requirements for cell, bus, or pack voltage or current; isolation , temperature simulation, or communications? Contact us. 
Bloomy use the latest versions of the National Instruments VeriStand and LabVIEW development environments to customize the application software based on final system hardware.  Because all BMS units are unique, Bloomy has developed system level components to facilitate platform scalability and supportability to reduce software customization.  Major application features:
Graphical User interface: to ensure you get the most out of the system, a customized interface is provided to view full system status and perform all system control, test, report viewing, and configuration.
Manual Control: complete operation of system channels and allows for value forcing, alarming, calibration, and stimulus generation.
Automated Test: fully automated test environment, providing the ability to generate stimulus profiles (drive profiles) and test scenarios to complete BMS firmware regression testing.
Communication Integration: integrate standard CAN and LIN automotive diagnostics or implement custom communication protocols used as feedback into models or measurement and reporting channels.
Reporting: create test reports for system IO, communication capturing during manual or automated control.
System Configuration: store all necessary hardware configuration information, software variables, IP address, report folders, model location, test stimulus profiles, and other critical station information.
Model Execution: Use Bloomy's parametric 2nd order equivalent circuit model, or pull in your own from Simulink, C/C++, or LabVIEW