One-of-a-kind laboratory de-risks your COTS transformation
Technology evolution is a risky proposition. Whether you're replacing an internally-designed legacy test system and don't know if commercial off-the-shelf (COTS) technology will work for you, or you're worried that a minor driver upgrade will cause weeks of unanticipated downtime, precious time and resources are at stake. Bloomy and NI have partnered to address these issues for our aerospace, transportation, and defense customers.
Bloomy's Hardware in-the-Loop (HIL) Technology Evolution Center is a first-of-its-kind facility designed to perform technology risk mitigation, allowing you to implement the latest COTS technology with less potential disruption in your systems. Featuring a wide variety of the most advanced HIL/SIL technologies from multiple suppliers, the lab allows you to evaluate state-of-the-art test capabilities—such as Model Based Systems Engineering (MBSE) concepts and solutions—without risking existing in-operation test assets. The Center also serves as a low-risk proving ground to manage your hardware and software obsolescence issues and develop proven mitigation plans.
How it works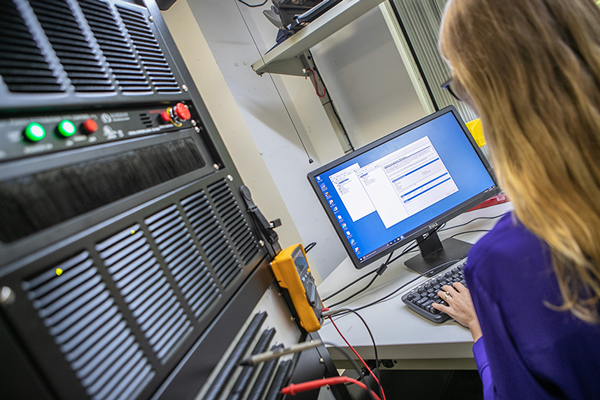 The Center simulates software and hardware integration in an environment similar to a system integration lab (SIL) and provides representative capabilities of a HIL test system. These test systems and labs are commonly used to simulate aircraft and other vehicles for testing line replaceable units (LRUs) with integrated electronic controls, computers, systems, and components.
Utilizing a suite of PXI and SLSC simulation equipment and integration with NI VeriStand Real-Time Test Suite, you can use the Center to:
Experiment with the latest simulation system hardware and software from NI, Bloomy, and other vendors
Learn how COTS components can be used to replace or enhance legacy, self-maintained systems
Test your software model in a real hardware environment with representative I/O signal types,
Connect your product to check for I/O compatibility
Prove functionality of signal conditioning specifically designed for your product
Pre-test software and hardware upgrades before implementation on your own systems
…all without causing downtime or risking the configuration of current production test systems.
More efficiency, less risk
When building an aerospace and defense test system, considerations must be made for future technology insertions, code migrations, and other maintenance for the next 10-15 years or more. COTS technology migrations are a gateway to model-based systems engineering and digital twin simulations to increase fidelity, streamline workflows, and share data across the supply chain.
By utilizing the hardware and software tools in the Center, you can test-drive new COTS technologies, simulate possible test conditions, and develop mitigation plans, without impacting your in-operation systems. The Center's system can be customized to reproduce customer configurations, including everything from fixed-wing or rotary-wing aircraft to unmanned, underwater vehicles.
This ability to test the integration of new technologies in real-time with your own components, models, and simulations helps ensure your valuable systems will remain mission-ready for years to come.
More about the HIL Technology Evolution Center
The Center, a collaborative effort between Bloomy and NI, provides a secure integration and testing environment for use by our mutual customers, as well as for NI and Bloomy personnel. Conveniently located minutes away from Bradley International Airport in Connecticut, the HIL Technology Evolution Center is ITAR registered and NIST 800-171 compliant (soon to be CMMC Level 3 as well), so you can work with confidence, knowing your IP will remain confidential in a controlled environment. And with Bloomy experts on staff to assist you, you're sure to be productive from the moment you arrive.
Contact Bloomy to discover how you can engage our HIL Technology Evolution Center to revolutionize your COTS transformation.
Addressing unique challenges for A&D test systems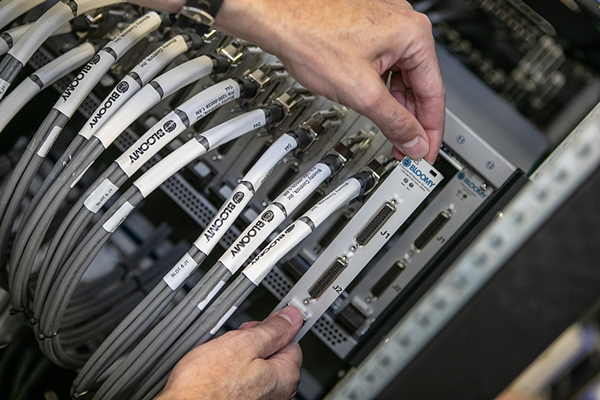 In transitioning from bespoke, self-developed software and hardware platforms for Aerospace and Defense testing, there are always risks associated with ensuring that it remains up-to-date. Test systems often contain a mixture of custom, legacy, and COTS technologies that must work together seamlessly, while organizations must also plan for future flexibility to ensure systems will serve mission needs for years to come. Systems are often large and costly, with high expectations that they must remain operational for years if not decades. Additionally, technology updates in both software and hardware can risk uptime in mission-critical environments where stability is imperative.
The ability to update, modernize, and maintain systems with lower amount of risk and disruption is an important aspect in keeping systems mission-ready at all times. The Center represents Bloomy's continued commitment to fulfilling long-term service agreements according to customer lifecycle and uptime requirements.
Schedule a visit now
To schedule a visit or see if the Center would be helpful for your system, please contact us.
The HIL Technology Evolution Center is located at our South Windsor, CT headquarters. See directions and hotels.
Related links