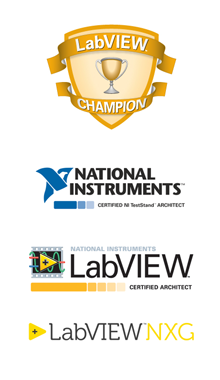 Are you facing a critical deadline and must quickly develop test, data acquisition, or control software? Do you have a project that involves software or hardware technologies with which you aren't familiar? Do you need a development process that enforces a high level of quality? Bloomy can deliver the services you need, on time and on budget.
Our LabVIEW and NI software development services include:
New application development - We build custom software applications that meet your current needs, yet scale to address your dynamic, future goals.
Agile software - Developing SOLID software with agile project management lets Bloomy deliver incredible software value faster and with reduced project risk.
Project LAUNCH - Ensure the success of your in-house development team by providing Bloomy's resources, processes, training, and best practices at the start of your project, and as needed throughout the project.
Software maintenance/upgrade - Refactor your outdated, hard-to-maintain software to improve reliability, performance, ease-of-use, and compatibility with new hardware and operating systems.
Specifications - Many engagements begin with a software or system requirements specification developed by Bloomy on an hourly basis, which can then serve as the basis for a fixed bid.
Project Management - For large multi-developer projects, Bloomy provides project management resources to continuously monitor and mitigate technical, schedule, and budget risks
NI Software Expertise
We specialize in National Instruments software including:
LabVIEW
LabVIEW Real-Time (RT)
LabVIEW FPGA
TestStand
VeriStand
DIAdem
NXG Web Module
Bloomy has the most NI Certified Developers and Architects of any company in the world, and have received the "Outstanding Technical Resources – Platinum Level" award from National Instruments. We set the industry standard in LabVIEW best practices by publishing our own internal development guidelines in The LabVIEW Style Book (© 2007, Prentice Hall).  
How to Contract Us
Bloomy provides software development services on a time and materials basis, or if you have a detailed requirements specification, we can provide a fixed-price. Alternatively, Bloomy will write the requirements specification on an hourly basis, which can then serve as the basis for a fixed-price.