Comprehensive load measurement solution
Bloomy's 8-Channel Load Module provides isolated current and voltage measurements for eight on-board 5W loads or for eight off-board 120W loads. With built-in switching for calibration and fault injection, the module provides unsurpassed capability for Mil/Aero applications. The module also provides switching and connections to allow switching between a real load (e.g., actuator, valve, etc.) and the simulated load.
This module requires the use of a PXIe-6363 high-density analog input or better.
For additional information download the 8-Channel Load Module product sheet.
Bloomy's 8-Channel Load Module can be used in a range of test system applications including:
Real-time hardware-in-the-loop (HIL)/closed-loop test systems
Electronic engine control (EEC) test systems
Flight control computer (FCC) test systems
Environmental control test systems
Contact us if you would like to discuss your application with an engineer.
8-Channel Load Module features include:
8 on-board 5W loads or 8 external 120W loads
Accommodates 60V/2A loads
Complete isolation of voltage and current measurements
Automatic calibration of signal conditioning path using SLSC calibration resources as references
Optional 1U load chassis with integrated temperature sensing and remote-controlled fans
On-board open-circuit fault injection capability
DC to 160kHz operation
Minimal 3μs propagation delay
±60V, ±30V, ±20V and ±15V voltage input ranges
Provides real/sim switching for all loads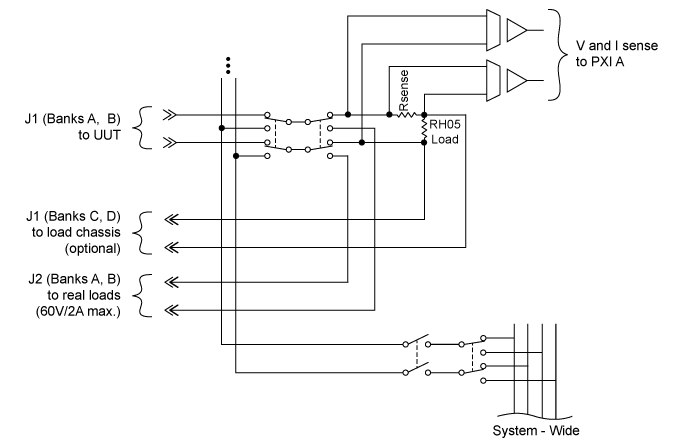 Instrumentation
Meets National Instruments SLSC Module Specification
Requires
NI PXIe-6363 (or better)
Channels
8 on-board 5W loads or 8 external 120W loads (optional load chassis required)
Accuracy
0.1% current, ±5% voltage
Bandwidth
DC-160kHz
Range
60V/2A
Connectors
HD44F, DB25F
Software
Software Interface
LabVIEW Driver 2015+
VeriStand Driver 2015+
| Part Number | Description |
| --- | --- |
| 1200-00029 | 8-Channel 5W Load Module for SLSC |
| 1200-00035 | Remote Load Chassis, 16 channel, 1U, 320W max. dissipation (available Q4 2018) |
| 1200-00024 | Remote Load Chassis, 16 channel, 3U, 640W max. dissipation (available Q4 2018) |
For price and delivery, please complete the request a quote webform.