High-precision thermocouple signal conditioning for SLSC
Bloomy's 8-Channel Thermocouple Simulator Module provides eight channels of galvanically-isolated thermocouple simulation and simulates types E, J, K, M, N, and T thermocouples. High-precision digital-to-analog converters which are isolated from each other and from system power provide sub-microvolt resolution and accuracy. Built-in switching provides open-circuit faults as well as switching to system calibration resources.
This module requires the use of NI's PXIe-7820 or better.
Bloomy's 8-Channel Thermocouple Simulator Module can be used in a range of test system applications including:
Real-time hardware-in-the-loop (HIL)/closed-loop test systems
Electronic engine control (EEC) test systems
Flight control computer (FCC) test systems
Environmental control test systems
Contact us if you would like to discuss your application with an engineer.
8-Channel Thermocouple Simulator Module features include:
8-channels of isolated high-precision voltage output
Isolated to ±60V channel to channel and channel to ground
Simulates types E, J, K, M, N and T thermocouples
On-board and remote cold junction compensation
On-board open-circuit fault injection capability
Automatic calibration of output voltage using SLSC calibration resources as references
High-stability, low noise circuits for longterm reliability and high accuracy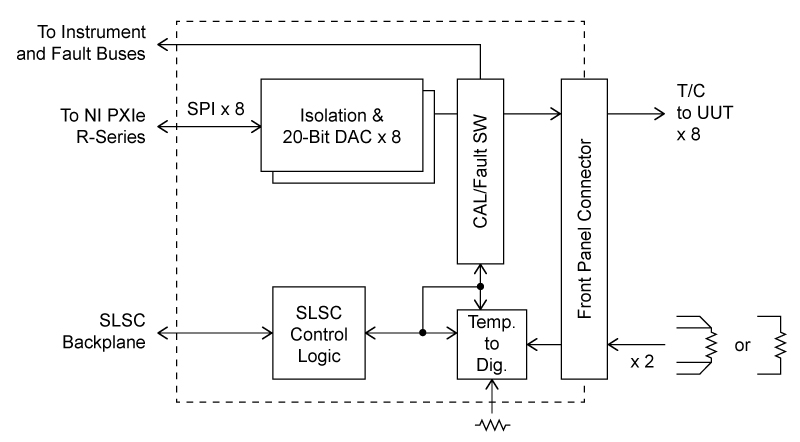 Instrumentation
Meets National Instruments SLSC Module Specification
Requires
NI PXIe-7820 (or better)
Channels
8 thermocouple simulations, types E, J, K, M, N, T
(independently selectable per channel)
Cold-Junction Compensation
Two external 10ΩK thermistors, on-board solid-state temperature sensor
Isolation
±60V channel/channel, channel/ground
Range
±100mV
Resolution
0.5µV
Bandwidth
160Hz
Connector
HD44F
Power
+15VDC/33mA, -15VDC/33mA, +5VDC/200mA, +3.3VDC/33mA
Software
Software Interface
LabVIEW Driver 2015+
VeriStand Driver 2015+
| Part Number | Description |
| --- | --- |
| 1200-00031 | 8-Channel Thermocouple Simulator for SLSC |
For price and delivery, please complete the request a quote webform.