Cost-effective, precise VDT conditioning for SLSC
Bloomy's VDT/Resolver Simulation Module offers eight channels of variable differential transformer (VDT) sensor simulation at an unmatched price point. Its highly-flexible nature allows each channel to be configured independently for simulation of a linear variable differential transformer (LVDT), a rotary variable differential transformer (RVDT), or a resolver. Versatile, separate E1 and E2 returns allow each channel to be connected in a 4-, 5- or 6-wire configuration. The included VeriStand SLSC driver also allows each channel to simulate two 4-wire sensors where shared excitation is acceptable.
This module requires the use of a PXIe-6738 high-density analog output or better.
Bloomy's SLSC VDT/Resolver Simulation Module can be used in a range of test system applications including:
Real-time hardware-in-the-loop (HIL)/closed-loop test systems
Electronic engine control (EEC) test systems
Flight control computer (FCC) test systems
Environmental control test systems
Contact us if you would like to discuss your application with an engineer.
SLSC VDT/Resolver Simulation Module features include:
8 channels of LVDT, RVDT, or resolver simulation
4-, 5- and 6-wire configurations, configurable on a per-channel basis
Complete transformer isolation
Automatic calibration of signal conditioning path using SLSC calibration resources as references
Independent control of E1 and E2 returns; simulates nominal and faulty sensors
On-board open-circuit fault injection capability
Optional low-frequency (400Hz) configuration
Custom configurations available upon request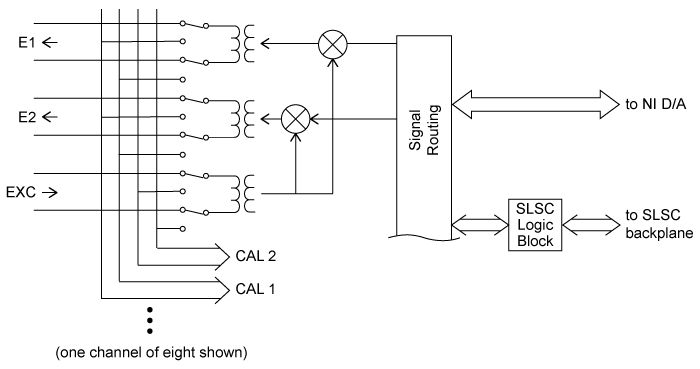 Instrumentation
Meets National Instruments SLSC Module Specification
Requires
NI PXIe-6338 (or better)
Channels
8 LVDT, RVDT or resolver, configurable per-channel
Accuracy
0.1% (est.)
Excitation Frequency
1.5kHz-4kHz (400Hz-1kHz opt.)
Excitation and Return Voltage Range
7.0Vrms (14.0Vrms optional)
Update Rate
all channels 20kHz
Connectors
HD44F x 2, Symmetric Pinout
Software
Software Interface
LabVIEW Driver 2015+
VeriStand Driver 2015+
| Part Number | Description |
| --- | --- |
| 1200-00019-00 | 8-Channel VDT/Resolver Simulator Module for SLSC, 1.5 kHz-4kHz, 7Vrms |
| 1200-00019-01 | 8-Channel VDT/Resolver Simulator Module for SLSC, 400Hz-1.5kHz, 14Vrms |
For price and delivery, please complete the request a quote webform.