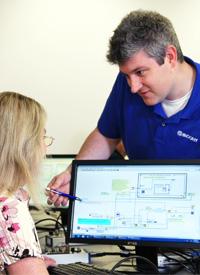 Instructor-led training available onsite or at any of Bloomy's NI certified training centers
Bloomy offers National Instruments training in LabVIEW, TestStand, DIAdem, and VeriStand software; as well as data acquisition, signal conditioning, FPGA, RIO, and general purpose inverter controller (GPIC) hardware that can help expedite your learning curve and unlock the full potential of NI products. Our NI Certified Training Centers in Marlborough, MA and South Windsor, CT offer students a professional training environment with the latest software and equipment. All courses are taught by NI Certified Professional Instructors who bring extensive industry experience to the classroom.

We can also teach onsite courses at your facility! Talk to us about your company's needs, and together we can plan a curriculum as a combination of custom and canned courses that help achieve your training goals.
Do you have a demanding project with limited resources? Bloomy also provides NI software consulting services, as well as Bloomy's own training courses including Bloomy Project Launch and The LabVIEW Style Course. Complete the request for training form and a training engineer will promptly contact you.
Directions and hotel information for NI Certified Training Centers hosted by Bloomy: