Wednesday, August 14, 2013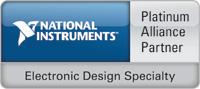 Bloomy Controls, Inc. (Bloomy) awarded "Most Outstanding Technical Resources" by National Instruments (NI) at NIWeek 2013. This award is given to the National Instruments Alliance Partner with the most NI Certified LabVIEW and TestStand Developers and Architects. In addition, Bloomy was recognized as a finalist for "Regional Partner of the Year Award - Americas." Bloomy has been an NI Alliance Partner for over 21 years, and continues to reaffirm the depth of its expertise in NI LabVIEW, NI TestStand, and embedded applications. Currently, more than 20 Bloomy technical staff members hold either Developer or Architect status, including 14 NI Certified LabVIEW Architects.
"We are glad to recognize Bloomy with the Most Outstanding Technical Resources Award," said Armando Valim, Alliance Partner Program Manager at National Instruments. "It is clear they have gone above and beyond to invest in developing experts with NI products. Their sheer number of Certified Architects demonstrates the synergy between NI and Bloomy Controls."
The ability to draw upon this extensive level of competency and experience, using proven technologies from NI, has allowed Bloomy to deliver high-quality turnkey systems for automated test, data acquisition, and control. These systems include the Universal Test System™ and compactUTS™ mixed-signal functional test platforms, as well as Bloomy Energy Systems' Battery Simulator 1200 and EnergyMAX™ power monitoring system.
"At Bloomy, we take pride in our high levels of technical proficiency with NI LabVIEW and NI TestStand because it maximizes the quality, maintainability, and overall value of the products and services we provide our customers," says Peter Blume, President of Bloomy Controls, Inc. "We often provide a higher-level automation strategy in which our customers can actually learn best engineering practices from the products and services we provide."