Company helps customers transition to LabVIEW NXG, the next generation of LabVIEW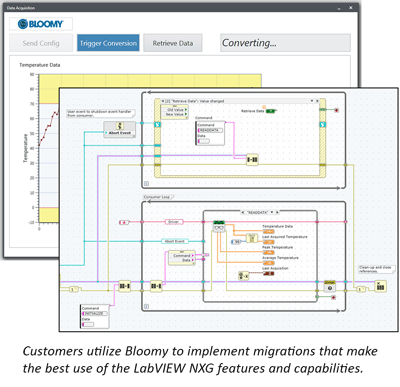 WINDSOR, CT – March 9, 2018 – Bloomy Controls, Inc. (Bloomy) has been approved as a Migration Services Partner by National Instruments (NI). The company received this designation after completing the required "Transitioning to LabVIEW NXG" training and associated skills assessment.
Prompted by the release of NI's LabVIEW NXG, the next generation of LabVIEW, the Partner Migration Services Program provides customers with access to NI recommended Alliance Partners skilled in both migration assessment and assistance services. Companies with LabVIEW code bases can utilize Bloomy's skills, expertise and knowledge of LabVIEW NXG to assess a migration effort's viability and to implement migrations that make the best use of the LabVIEW NXG features and capabilities.
"As LabVIEW NXG becomes an increasingly complete offering, we are excited for the role our Alliance Partners will play in helping NI's customers migrate and upgrade their applications. We are particularly excited to add on to our years of partnership with Bloomy by recognizing their expertise in this area based on past hardware and software migration successes," says Selene van der Walt, Product Marketing Engineer | Alliance Partner Network at NI.
Bloomy, an NI Platinum Alliance Partner and 2017 America's Regional Partner of the Year, an honor bestowed upon the company for exhibiting the highest level of excellence, leadership, and mutual commitment to NI customer success, has exemplified its depth of expertise in NI platforms and architectures for more than 25 years.
"As a Migration Services Partner, we continue our sustained 26-year track record of supporting Bloomy's extensive customer base, as well as contributing our LabVIEW development best practices to the NI ecosystem," says Peter Blume, Bloomy's President and author of The LabVIEW Style Book (copyright © 2007, Prentice Hall).
Bloomy is a trademark of Bloomy Controls, Inc.
LabVIEW, LabVIEW NXG, National Instruments, NI and ni.com are trademarks of National Instruments.
A National Instruments Alliance Partner is a business entity independent from National Instruments and has no agency, partnership or joint-venture relationship with National Instruments.
Related Links