Tuesday, November 15, 2016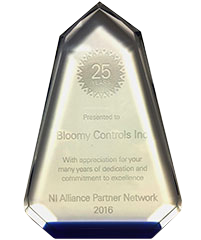 This year, Bloomy Controls, Inc. (Bloomy) has been recognized by National Instruments (NI) for 25 years as an Alliance Partner! With over 1,000 members in over 70 countries, the NI Alliance Partner Network has grown significantly over the past 25 years, and Bloomy has grown right along with it. Originally starting as a regional custom systems and services provider, Bloomy now provides platforms nationally, as well as products internationally.
Peter Blume, Bloomy's President, founded the company in 1992. Peter began integrating systems using LabWindows™ for DOS version 1.2, and LabVIEW™ 2.5 - the first LabVIEW version available for Microsoft Windows 3.1. In the same year Bloomy was invited to become an Alliance Partner. Along with NI and fellow Alliance network peers, Bloomy helped drive the virtual instrumentation revolution, in which PCs, NI software and plug-in hardware were combined to automate and transform traditional instrumentation into user-defined automated test and measurement systems.
In 1999, Bloomy was among the first group of NI Select Integration Partners. By 2001 the company expanded to new offices in Massachusetts and New Jersey. To promote consistent quality among multiple developers in multiple locations, the company established a rigorous set of LabVIEW best practices including a style guide and code review process. In 2007, Bloomy set the industry standard for LabVIEW development style by publishing its internal coding standards in The LabVIEW Style Book (© 2007, Prentice Hall).
"Our achievements as an Alliance Partner are all because of our world-class team of NI certified architects," says Peter Blume. We've had an extraordinary track record in building high-performance solutions based on the NI platform that exceed customer expectations."
In both 2013 and 2014, NI awarded Bloomy "Outstanding Technical Resources - Platinum Level". Today, Bloomy has a portfolio of platforms and products powered by NI technology for electronics functional test, aerospace real-time test, and battery test and simulation.
During NIWeek 2016, Tony Vento, NI Vice President of Systems Assurance and Partners commented, "I have worked with Bloomy since they became an Alliance Partner in 1991. Bloomy rapidly advanced to our top tier of the program and has consistently been an outstanding partner with a strong commitment to NI. Their 25-year anniversary marks their remarkable achievements and progression as a company."
Bloomy NI Alliance Partner Timeline
1992 – Became an NI Alliance Partner
1998 – Opened an NI Certified Training Center in Windsor, CT
1999 – Among first group of NI Select Integration Partners
2000 – Opened Massachusetts office (originally in Milford, MA)
2001 – Opened New Jersey office (originally in Mahwah, NJ)
2006 – Launched the UTS™ platform for electronics functional test
2007 – Published The LabVIEW Style Book (© 2007, Prentice Hall)
2008 – Moved MA office to expanded manufacturing facility in Marlborough, MA
2012 – Became Platinum NI Alliance Partner
2012 – Became an Electronic Design NI Specialty Alliance Partner
2013 and 2014 – Awarded "Outstanding Technical Resources – Platinum Level" by NI
2013 – Became a Vision NI Specialty Alliance Partner
2013 – Launched the Battery Simulator 1200 product
2013 – Launched the compactUTS™ benchtop functional tester
2014 – Became an Embedded Control NI Specialty Alliance Partner
2014 – Received ISO 9001:2008 Certification
2014 – Rebranded as "Bloomy"
2015 – Launched the cRIO-1553B MIL-STD-1553B C Series module
2016 – Launched the Battery Fault Insertion Unit
2016 – Moved NJ office to Paramus, NJ
Here's to another 25 years of outstanding partnership!
Product and company names listed are trademarks or trade names of their respective companies.
Related Links
NI Alliance Partner Network 25 Year Honorees