January 5, 2022
A year of heavy investments and critical test systems deliveries for Bloomy!
2021 Highlights
Renovated and relocated to expansive new 30,000 ft2 headquarters
Delivered last five of ten HIL simulation systems for unmanned undersea vehicle program
Boosted production test throughput of robotics systems for modernizing the global supply chain
Tested and then scaled-up test capacity of new hypersonic missile defense technology
Confronted climate change through the delivery of multiple battery electronics test systems and continued investment in new battery test technology
Launched the Hardware-In-the-Loop (HIL) Technology Evolution Center together with NI
Navigated supply chain issues while promoting health and safety, successfully avoiding COVID-19 issues
As the calendar flips from 2021 to 2022 and the COVID-19 Delta and Omicron variants are putting a damper on our New Year's celebrations, I found myself with some extra time on my hands that would otherwise be spent traveling to visit relatives in Houston and Atlanta. Thanks to the foresight and intuition of my wife, we were not among the tens of thousands of flight cancellations and hundreds of thousands of daily COVID cases and hospitalizations this year. Rather, we were fortunate to be home, vaccinated, safe and healthy. Our sympathies go out to all that faced hardship and tragedy during these challenging times. A sincere thank you to all of the scientists, pharmaceutical companies and government agencies that teamed together to produce and distribute our vaccines, PPE and test kits in record time. And infinite thanks to our health care workers for addressing the prior and latest surges of cases and hospitalizations, a situation that will unfortunately continue well into the new year. THANK YOU! No better time to reflect on 2021… a year of heavy investments and critical test systems deliveries for Bloomy.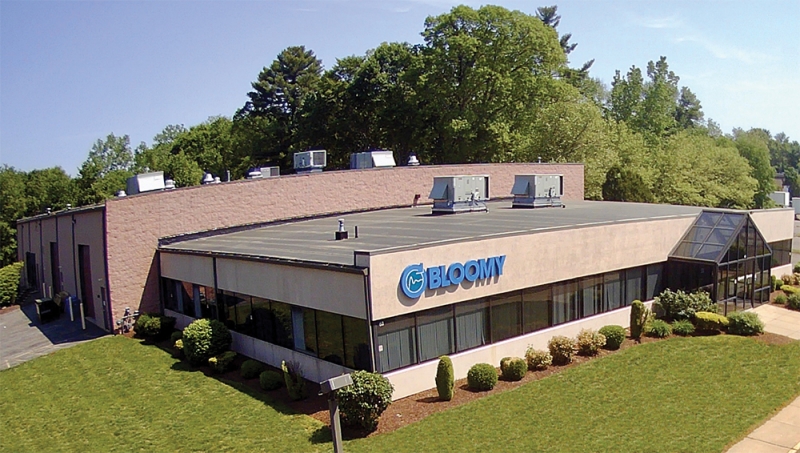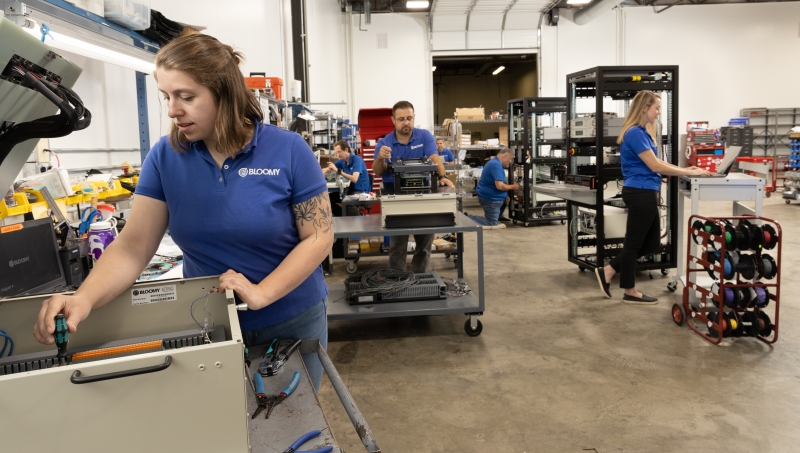 Bloomy's heavy 2021 investments began with renovations and relocation to our new
30,000 ft2 headquarters in South Windsor, CT.
Driven by industry trends towards autonomy, digital transformation, and electrification, Bloomy invested heavily in our facilities, people, infrastructure and R&D. We started the year with extensive and accelerated renovations to our new 30,000 ft2 headquarters in South Windsor, CT, which we moved into during February. This facility dramatically increases our capacity to design, manufacture, integrate and deliver our automated testing equipment. It is equipped with 25 cells for assembly, test and integration; a large inventory room for incoming inspections, management and controls; an extremely large and secure ITAR space; a NOFORN/UNNPI development space; a spacious training room, an even more spacious seminar room, multiple conference rooms, employee lounge, and break room; 2 loading docks, 2 drive-in docks; and the new Hardware-In-the-Loop (HIL) Technology Evolution Center. With high ceilings, wide corridors, and climate controls throughout, it is a remarkably safe environment where social distancing is built-in by default. (If it weren't for human nature to interact in close proximity, employees and visitors would almost have to go out of their way to not socially distance here). Special thanks to our general contractor CLARIS Construction for the timely renovations, amid the labor and materials shortages that have plagued the year.
Our investments in people include new dedicated roles for managing the supply chain, a pervasive issue in 2021. Over the last 1-2 years, we've added new positions for incoming materials inspections, manufacturing engineering, and inside as well as regional outside sales engineering. Combined with our highly experienced manufacturing supervisor, quality manager, supply chain manager, and executive leadership team, these new roles have allowed more focused responsibilities throughout our operations. And we continue to invest and improve our employee benefits such as healthcare and 401(k) amid rising costs. At Bloomy, our people are our greatest assets, and there is no better area for investment.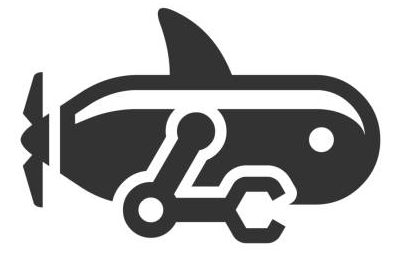 Bloomy made final deliveries of HIL simulation systems for validation testing of an unmanned, undersea vehicle.
Over the past several years, heightened geopolitical tensions combined with breakthrough new technologies have inspired innovation and urgency in the aerospace and defense industries. These technologies include autonomous systems in the air, land and sea, also known as unmanned systems (UxS). Among our first test systems deliveries from the new headquarters were the final deliveries from a batch of ten hardware-in-the-loop (HIL) simulation systems for validating the electronic control systems of an unmanned undersea vehicle. We also helped to improve our country's hypersonic missile defenses by producing the prototype test equipment for an innovative new electronic initiation product design. Subsequently, we conceived and delivered a massive 50-up test system within this same 2021 calendar year in order to rapidly scale the production test capabilities of this device. We also teamed with NI to launch the Hardware-In-the-Loop (HIL) Technology Evolution Center in support of a major airframer.
We are pleased to participate in these critical programs in service to our country, allies and customers. Our ability to scale from engineering validation to production utilizing pre-existing designs provides synergy, reuse, and accelerates time to market. Our new facility allows us to execute on these programs in a maximally safe and secure manner.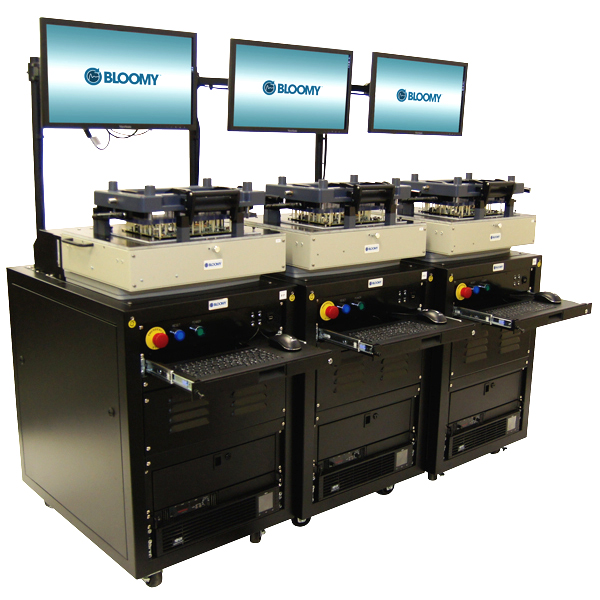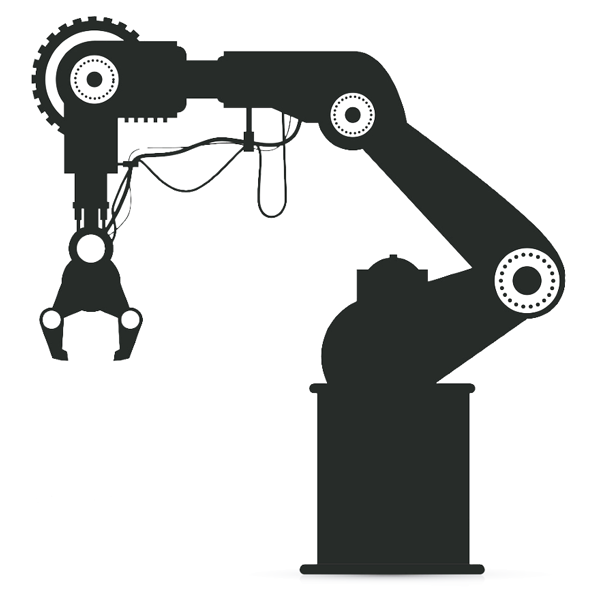 Bloomy's standard offerings for electronics functional test helped warehouse
distributors keep up with consumer demand.
Another trend we all relied upon these last couple of years was online shopping. Warehouses equipped with revolutionary new robotic systems technology are enabling online retailers to keep up with consumer demand amid severe labor shortages. Bloomy is proud to contribute our expertise with unmanned systems testing, as well as our ability to scale-up from engineering validation to production test, to deliver multiple automated test systems with aggressive, market-driven schedules. We rose to the occasion, extending our standard offerings for electronics functional test to accommodate this demand.
2021 set records in many of the metrics for climate change: temperatures, wildfires, droughts, floods, hurricanes, tornadoes and other extreme weather events. The UN's Intergovernmental Panel on Climate Change released its Sixth Assessment Report detailing "unequivocal" physical evidence. "However, strong and sustained reductions in emissions of carbon dioxide (CO2) and other greenhouse gases would limit climate change." The Net-Zero Coalition has laid out steps for slowing down and reversing the global warming that causes climate change, including replacing fossil fuels with renewable energy. Intermittency of renewable energy sources such as wind and solar, as well as mobility required for transportation and other industries, calls for battery energy storage. In 2021, the viability of battery electric vehicles was confirmed by the investment community that pushed Tesla to the highest market capitalization in the global automotive industry and made Elon Musk the wealthiest human on earth. All major automakers have announced plans to produce fleets of battery EVs in the coming years, and some have even terminated their internal combustion engine development programs. Electrification is here!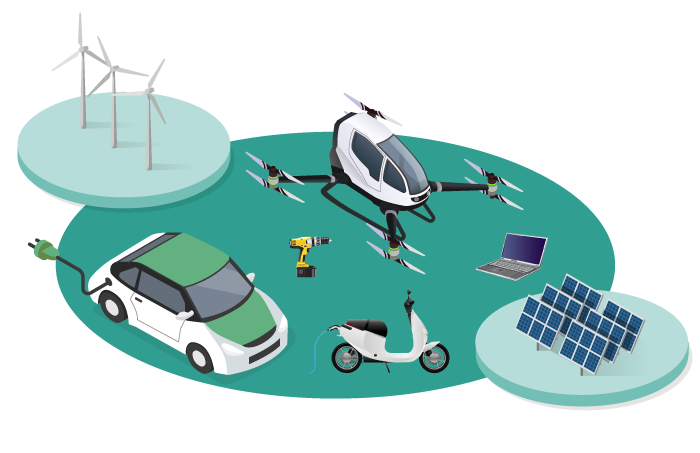 Bloomy's battery test and simulation equipment is helping to improve the safety, capacity,
power, energy and cost of advanced batteries for a broad range of applications.
Bloomy was pleased to deliver battery test and simulation equipment that helped electrification companies improve the safety, capacity, power, energy and cost of advanced batteries. In 2021 and throughout the last decade, we've helped automotive companies, battery manufacturers and test labs test the batteries for electric vehicles, power grid energy storage, drones, electric air taxis, medical devices, as well as power tools and consumer electronics. Our complete offering for battery test and simulation tests the battery management systems (BMS) and many other vehicle and energy systems throughout the product development lifecycle, improving the performance and safety of advanced batteries. These improvements in battery technology directly increase our ability to utilize alternative energy and achieve net-zero emissions, and we're pleased to contribute to this momentous global initiative.
Thanks to the unwavering dedication of Bloomy's employees, in 2021 we navigated the COVID-19 pandemic including health and safety as well as supply chain issues. Through a combination of expanded facilities, remote work, and the intense focus and dedication of our team, we had no substantial disruptions to our projects or to the health and safety of our employees - this was our greatest achievement. Kudos to Bloomy's administrative, operations and supply chain management for their dogged determination and perseverance throughout the year – You Rock!
2022 Outlook
In 2022 we look forward to providing new innovations in our key areas of specialization, including aerospace and defense systems integration labs (SILs), battery electrification, unmanned systems (UxS) validation, as well as digitally-enabled automated production test. Our technology roadmap includes new developments in each of these areas. Most of all, we look forward to innovating together with our customers, who's pursuits continue to stimulate, inspire and humble us. Thank you for your business!
Finally, we look forward to celebrating our 30th anniversary as a company. COVID-19 pandemic withstanding, we anticipate an open-house at our South Windsor facility towards the middle of the year. Stay tuned for updates.
We wish you Peace, Joy, Love, Health, Safety and a Happy and Prosperous New Year!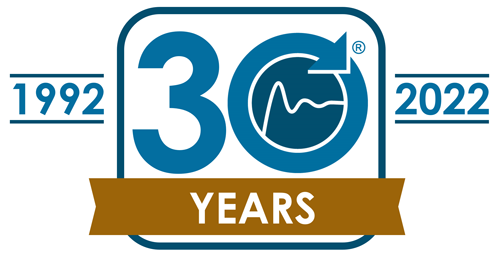 Bloomy celebrates its 30th anniversary this year. Stay tuned for details.
End Notes
Sixth Assessment Report (ipcc.ch)
Climate change widespread, rapid, and intensifying – IPCC — IPCC
Category: