February 1, 2014
Bloomy Energy Systems co-exhibited with National Instruments (booth #425) and DNV GL (booth #1359) at DistribuTECH in San Antonio, TX from January 28 to 30, 2014.
At Bloomy Energy Systems, we provide monitoring, control, and test products for companies developing high-performance energy storage systems (ESS). Systems include ESS performance testing; ESS embedded control and monitoring; and distributed microgrid monitoring.
During exhibit hours, there were demonstrations of EnergyMAX (a flexible distributed power monitoring system) connected to a small-scale microgrid. The interactive demo was configured to monitor the AC inverter power quality, integrated renewable energy sources (wind, solar, and generator), and battery energy storage system.  The EnergyMAX application provides an overview dashboard and detailed graphical information if further analysis is required.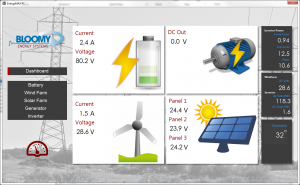 In addition to exhibiting and providing demonstrations, Bloomy Energy Systems gave three presentations at the DNV GL booth on the following topics:
Grid Scale Battery Management System Design Considerations
Testing Grid Scale Battery Management Systems
Developing a Distributed Microgrid Monitoring System
To learn more about the EnergyMAX platform or to discuss your ESS monitoring and control application, contact  [email protected]
Tags: