Excerpt from November 30, 2021 article in Military & Aerospace Electronics, by Jamie Whitney
  
Trends in test
Peter Blume, the founder and president of Bloomy Controls, Inc., a provider of automated test solutions, noted a quartet of trends in test and measurement in the mil-aero sector. They are digital transformation; autonomy; electrification, and technology migrations.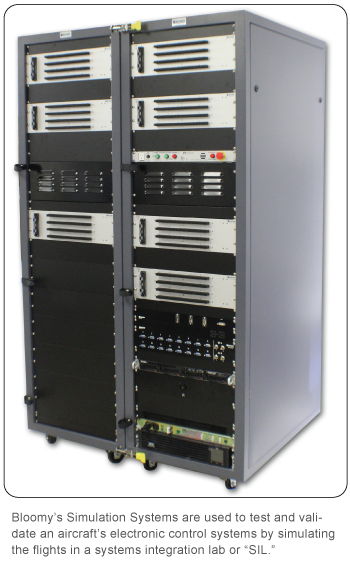 "Large portions of the industrial sector are only just beginning to recognize the value that digital transformation can offer development, manufacturing and test," Blume says. Of these, test seems to be the last to adopt the principles of digital transformation. Bloomy is actively driving these principles into the test equipment sector by providing Thread-Ready test systems to customers who are only beginning to integrate model-based systems engineering (MBSE) tools and techniques into their products' digital threads."
Regarding autonomy, Blume says that "Bloomy has noticed an increasing trend away from putting humans in harm's way or into situations which would otherwise be impossible or impractical to do so, e.g., years-long space research flights or underseas reconnaissance missions. Bloomy augments its offering of system integration laboratory (SIL) hardware in-the-loop (HIL) test systems as the need to test these uninhabited systems emerges."
Blume notes that because air and ground vehicles are fully embracing electric and hybrid power, including air taxis, vertical take-off and landing (VTOL), that electrification is driving development in test and measurement equipment.
Finally, Blume addressed technology migrations impacting trends in test and measurement in the mil-aero sector.
"Many older military and commercial aircraft programs are supported by antiquated test equipment comprised of instruments and computers that are increasingly difficult to support and replace. Add to that the 'gray wave' of retiring engineers who designed and maintained the equipment for years, and we find ourselves in a risky situation where we are either holding our collective breath, hoping that the equipment doesn't fail, or we are making gradual upgrades, while hoping that the necessary downtime doesn't interfere with any unforeseen test requirements," Blume says. "In response to these issues, Bloomy has teamed up with partners such as NI and Alta Data Technologies to host the HIL Technology Evolution Center, an industry-first initiative to help aerospace and defense organizations reduce the risk and cost of migrating legacy test assets to updated technologies."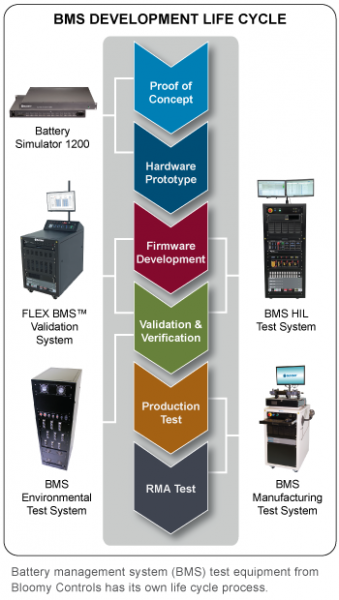 Bloomy's Blume says that his company has a complete offering of battery management system (BMS) test equipment for the BMS product development life cycle.
"The BMS is an embedded system that monitors and balances the cells, optimizes the performance and ensures the safety of the battery. During BMS validation and HIL testing, the battery cells are simulated using either real cells or banks of programmable power supplies and loads," Blume says. "Because lithium-ion and other advanced chemistry battery cells contain hazardous materials, the use of real cells is dangerous. Consequently, either the test coverage must be limited to regions where the cells are not stressed, or testing is performed in specialized facilities with chemical fire suppression capabilities. In addition, most commercial power supplies and loads don't simulate the current sink and source capabilities of real cells. Bloomy provides a battery cell simulator, the Battery Simulator 1200, that contains 12 simulated battery cells which sink as well as source current for BMS testing. The Battery Simulator 1200 is a commercial, off-the-shelf instrument (COTS) that is widely adopted in the automotive industry and is now also being utilized for aircraft BMS testing. The Battery Simulator 1200 is isolated and modular and is packaged in a 1U 19-inch rack-mount enclosure, allowing the series connection of many cells from multiple units to simulate a battery pack. The Battery Simulator 1200 is a fundamental building block of all of Bloomy's BMS testing equipment, supporting the full product life cycle from R&D, validation and production. In addition, the Battery Simulator 1200 is also used for testing battery sensitivities of the electronics on an electrified vehicle.
Read the full article from Military & Aerospace Electronics
Related Links: