April 29, 2022
Robust, high-speed MIL-STD-1553B communications using NI VeriStand and Alta interface hardware
The Bloomy Custom Device for Alta 1553 interface hardware is the only high-speed, robust MIL-STD-1553B solution available for NI VeriStand on the market today. Since its deployment over six years ago, multinational airframers have relied upon this custom device in their systems integration labs (SILs) for high-fidelity validation testing of line replaceable units (LRUs), avionics and systems. Bloomy's extensive offering of hardware-in-the-loop (HIL) simulation systems for testing electronic flight controls, engine controls, environmental controls, and mission systems incorporate the Bloomy Custom Device for Alta 1553.
The custom device runs on a VeriStand-compatible PXI embedded controller or rackmount computer with MXI interface and is compatible with both PharLap and NI LinuxRT. Designed for use with the Alta CPCIC3 1553 CompactPCI Interface Card, the Bloomy Custom Device provides a seamless, integrated, fully-featured MIL-STD-1553B solution. Essentially a high-performance software driver, the custom device includes extensive documentation and a proven track record in sophisticated simulation environments.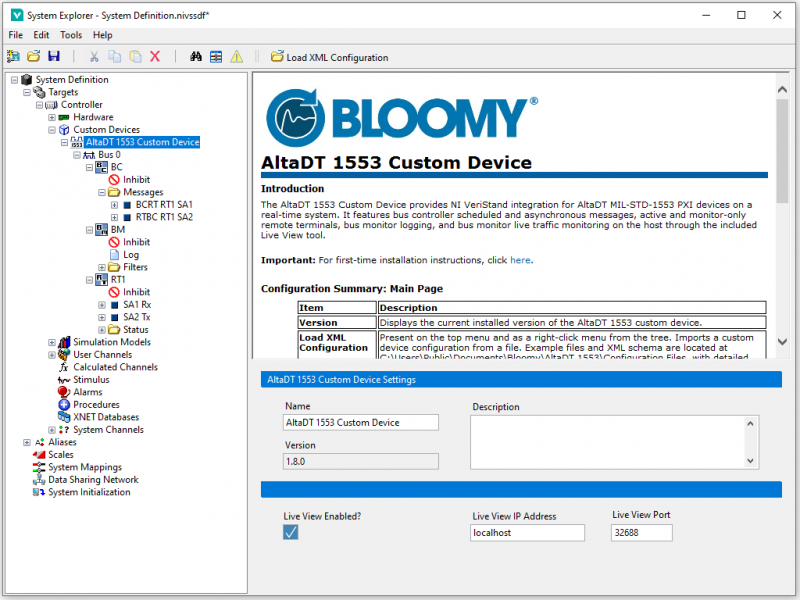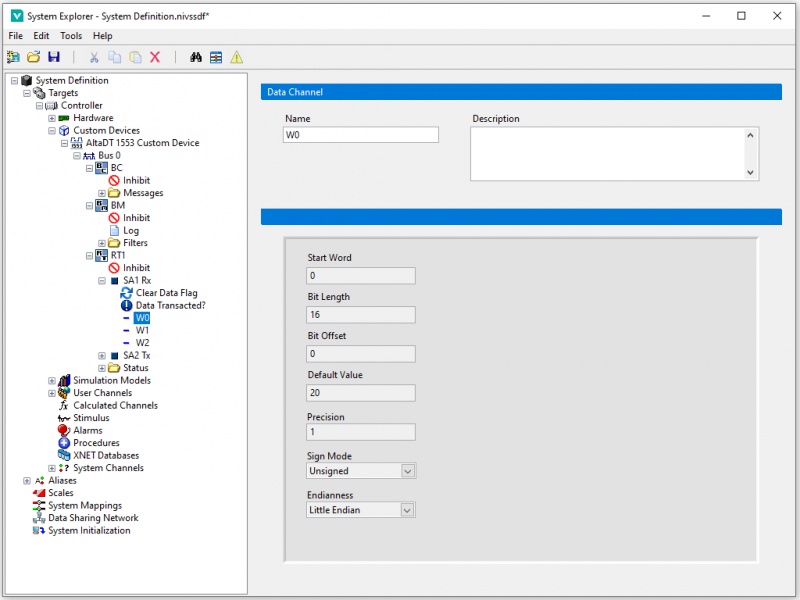 Features:
Fully-featured Bus Controller/Remote Terminal/Bus Monitor
Simultaneous control of up to ten channels of MIL-STD-1553B
Configuration import/export
Host-side Live Traffic Viewer utility for runtime observation of traffic without the need for an external monitor
Sequential and Mailbox-style Bus Monitor capability
Support for Linux and PharLap platforms
Message parameterization and translation into engineering units
Using the AltaDT 1553 Custom Device, Bloomy has run configurations of 5000 parameters with a software latency of 40 µs. However, performance varies widely based on the configuration, parameterization and the frequency with which 1553 payloads are altered. A similarly-sized configuration might perform differently with a more aggressive schedule or more frequently changing parameters. Specific customer configurations of hardware, software and models can be benchmarked at Bloomy's HIL Technology Evolution Center at the company headquarters in South Windsor, CT. Please contact Bloomy for more information, or request quote if you would like a proposal.
Related Links
Simulation Systems for hardware-in-the-loop (HIL) validation of aerospace and defense electronics
Category: